Air Canada is retracting financial guidance and cutting operations as the global coronavirus pandemic hits airlines, while asking the Canadian government to help with financial losses it expects to suffer in the coming months.
"The crisis facing our industry is worsening as countries around the world adopt increasingly severe measures, national lockdowns and travel restrictions," writes chief executive Colin Rovinescu in a statement on 16 March.
"We understand that the governments of the United States and many European countries such as Germany, France, Italy, Norway and others have approved or are considering assistance for their airline industries in one form or another. Under these circumstances, we believe that the Canadian airline industry should also see similar assistance, whether through forbearance of taxes, landing fees and other charges that form part of the aviation burden in Canada or otherwise until the industry stabilises," he says.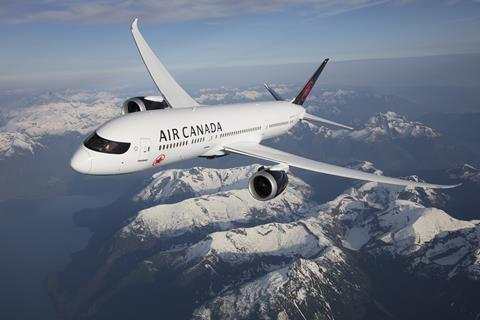 The Montreal-based flag carrier also says it is withdrawing earnings guidance for 2020 and 2021, and suspending 50% of its capacity in the second quarter of this year.
"Although the company expects this disruption to be temporary, as the full impact and duration of the outbreak is unknown, Air Canada is withdrawing its previously announced first-quarter and full-year 2020 guidance as well as its full-year 2021 guidance (including its free cash flow guidance for the 2019-2021 period) while it takes steps to mitigate the financial impact on its business," the airline says.
While the airline's current cash liquidity is at about C$7.1 billion ($5.1 billion), it says it will be working "with its aircraft partners in exploring the potential deferment of aircraft deliveries" in order to preserve cash if the crisis drags on. The carrier says its capital expenditure in 2020 was planned to be C$2.4 billion, but will now be lower.
"This includes purchase commitments for 17 Airbus A220 and six Boeing 737 Max aircraft totaling approximately $1.2 billion, which are still expected to be delivered and, subject to satisfactory lending arrangements, financed in 2020," the airline says.
Last week, the airline said it would be cancelling 11 of the Max orders, which had planned to be delivered in 2023 and 2024, after it reassessed its long-term fleet planning requirements in the wake of the troubled aircraft's year-long grounding.