A pair of major US carriers – Alaska Airlines and American Airlines – are pursuing separate codeshare agreements with Condor and JetSmart, respectively.
German leisure carrier Condor has applied with US regulatory authorities for a codeshare agreement that would allow Condor to use Alaska's airline designator code on international flights.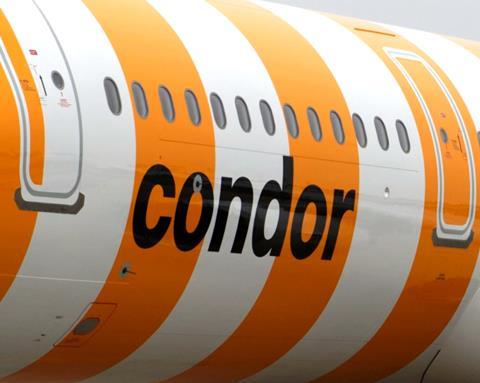 Condor requested in a 21 April filing with the US Department of Transportation to begin the code-share service "on or around" 1 June. The holiday specialist also requested "expedited processing of this application".
Under the proposed agreement, Alaska would place its code on Condor services between Frankfurt, Germany and 12 US cities – Anchorage (Alaska), Boston, Baltimore, Fairbanks (Alaska), New York, Las Vegas, Los Angeles, Minneapolis (Minnesota), Portland (Oregon), Phoenix, Seattle and San Francisco.
"The codeshare authorisation requested herein is fully consistent with the applicable open skies air transport agreement currently in place between the United States and the European Union," Condor says in its application.
Separately, American and Chilean low-cost carrier JetSmart received DOT approval on 21 April to enter a two-year codeshare agreement effective immediately and running through 21 April 2025.
The agreement allows American to provide scheduled air service "between points in the United States and points worldwide on a third-county codeshare basis". It also grants JetSmart authority to display American's designator code on flights operated by JetSmart "within Chile and between Chile and third countries", according to the filing.
"Based on the record in this case, we found that JetSmart… is operationally and financially qualified to conduct the proposed services," the DOT says. "We also note that American has conducted a safety audit of JetSmart… and the FAA has advised us that it has reviewed the relevant audit report and found it to be acceptable."
In July 2021, American said it was taking a minority stake in JetSmart, seeking to broaden its Latin American network and fuel JetSmart's growth, though financial details were not disclosed.
"By connecting and growing our respective networks, and maintaining our distinct business models, we see a compelling value proposition," JetSmart chief executive Estuardo Ortiz said at the time.
Santiago-based JetSmart – owned by US private equity firm Indigo Partners – operates a fleet of Airbus A320s and A321s in Chile and Argentina.