American Airlines has expanded its pre-flight coronavirus testing programme, hoping to inspire customers' confidence to return to air travel.
The Fort Worth-based carrier says on 2 November that it is giving guests to vacation destinations such as Belize, Grenada, St. Lucia and Hawaii the opportunity to test ahead of time. It will partner with the at-home testing provider LetsGetChecked to offer travellers the tests from 16 November.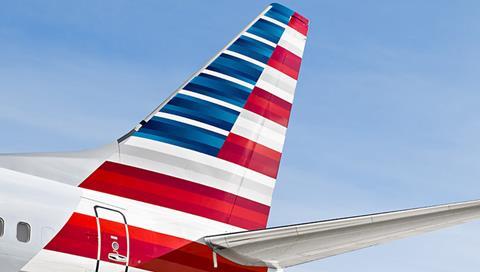 "Our initial preflight testing has performed remarkably well, including terrific customer feedback about the ease and availability of testing options," Robert Isom, the carrier's president says. The next phase will be targeted at "reopening international travel and driving industry recovery while delivering a safe and positive travel experience."
American introduced the testing on selected flights from its Dallas/Fort Worth hub to Hawaii, which relaxed isolation restrictions earlier this month. Now the programme will be extended to other departure airports for flights headed to the islands in the middle of the Pacific Ocean.
United Airlines led the way in pre-departure testing for passengers headed to the archipelago and Hawaiian Airlines followed shortly thereafter.
On 15 October, the state of Hawaii allowed inbound travellers to side-step the 14-day mandatory isolation rule if able to show a negative coronavirus test no more than 48h old.
But a complex patchwork of travel restrictions and isolation requirements across the USA continue to hamper a sustainable recovery of passenger air travel. Potential customers are wary of booking flights without knowing for sure if they will be forced to quarantine when they get to where they are going, or on their way home again.
The regions around New York City, Washington DC and Chicago maintain strict quarantine requirements for arriving domestic passengers from more than 30 other US states.
The rules for overseas destinations can be even more confusing, and the punishment in case of violating them quite severe.
Nevertheless, airlines are hoping to benefit from pent-up demand in the coming months as the all-important Thanksgiving and Christmas holiday season looms. Numerous airlines say that pre-departure testing is a way to bridge the timeframe before a vaccine will be widely available.
On its earnings call last week, American reported a $2.4 billion loss for the third quarter as the coronavirus kept guests from planning too far in advance. The airline also furloughed 19,000 staff after federal financial assistance for airlines ran out on 1 October, without an extension.
American said at the time that it expects overall capacity in the final three months of the year to be down 50% from the same period a year ago, with international long-haul capacity down about 75%.