ANA Holdings has unveiled the branding for its new medium-haul carrier, which will commence operations a year later than previously planned, amid tepid recovery in international travel.
The new carrier, which will operate Boeing 787-8s, is called AirJapan, with service launch expected in the second half of fiscal year 2023, which commences on 1 April 2022.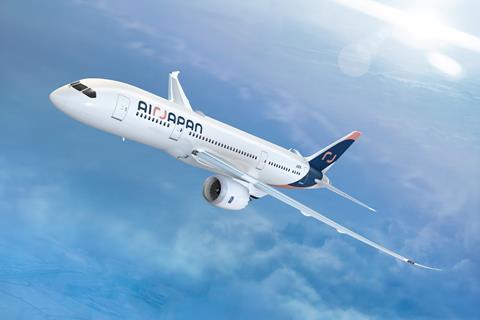 "The exact routes and specific dates of the scheduled first flight is still under consideration as ANA is closely monitoring trends in the recovery of demand for international flights," says ANA.
When it first disclosed plans for a third carrier in October 2020, ANA had stated that the new carrier will be established by fiscal 2022, mainly operating to Southeast Asia, Australia, and New Zealand.
The rollout of AirJapan was part of a broader "structural business reform" aimed at emerging from the coronavirus pandemic. Under the plan, mainline ANA was to be the flagship full-service operator, while Peach Aviation will remain the low-cost operator. The third carrier sits between the pair on the service/price matrix.
ANA in its latest media statement stresses that AirJapan is "neither a full-service nor low cost carrier". Instead, it says AirJapan aims to "[combine] the best of both worlds while also featuring Japanese-style ideas and quality", without going into detail.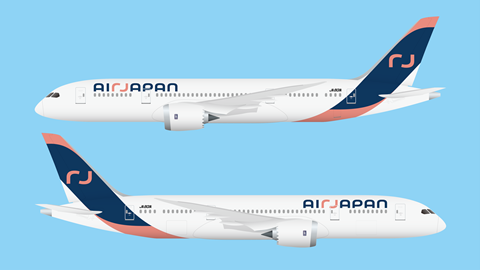 AirJapan also promises "affordable" tickets "similar to low-cost carriers", while passengers are able to "select options" from "services offered by full-service carriers".
AirJapan president Hideki Mineguchi adds: "By focusing on medium-haul international routes, the ANA Group will be better equipped to meet emerging trends for international travel at a competitive price. We are proud to be part of the team that is increasing options for travellers while also bringing the same commitment to quality and safety found across the ANA Group."
When launched, AirJapan would be the second medium-haul, leisure carrier to operate from Japan, after low-cost operator Zipair, which is owned by ANA compatriot Japan Airlines.
Cirium fleets data indicates ANA to have a fleet of 36 in-service 787-8s.