European low-cost carriers Ryanair and Wizz Air reported their strongest months for passenger numbers during the coronavirus crisis in August, though curtailed capacity plans due to fresh travel restrictions mean this is likely to be their peak for the year.
The two airlines are the first in Europe to report traffic figures for the month, providing an early indication of how much passenger levels returned during the summer travel peak.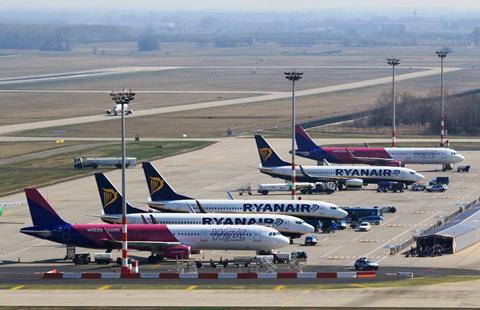 Irish low-cost carrier Ryanair carried over 7 million passengers in August, its highest number since the start of the coronavirus crisis but still under half the levels of a year ago.
The figure is 53% down on the 14.9 million passengers the airline carried in August 2019 – which was the busiest month for the airline last year. Passenger load factor stood at 73%.
The figure is a jump on the 4.4 million passengers Ryanair flew in July. That figure was down some 70% on the 14.8 million the carrier reported for the same month in 2019.
Ryanair flew around 60% of its normal August capacity. But the airline's recovery plans have been hit by the re-emergence of travel restrictions across Europe – which has prompted the airline to reduce by 20% its capacity plans for September and October.
Central European carrier Wizz Air operated around 80% of its capacity in carrying 2.4 million passengers in August. That was down 41% on the roughly 4 million the carrier flew in August 2019. Load factor for the month stood at 70.9%, sharply down on the corresponding figure last year.
In July Wizz carried 1.8 million passengers – down 53% on the same month last year.
Fresh travel restrictions within Europe, notably those introduced in its home market in Hungary at the start of September, have also prompted Wizz to scale back its capacity plans. The airline expects to operate at around 60% of its normal capacity for the July-September quarter and roughly the same level for the last three months of the calendar year. It had originally planned to operate around 80% of its capacity for the quarter.