Austrian Airlines is planning to implement further restructuring measures in response to lower-than-predicted travel demand amid the current wave of Covid-19 infections.
The Lufthansa Group carrier says it is currently operating around 15% of pre-crisis capacity. It had previously forecast that the level would reach 50% during the winter season ending in March.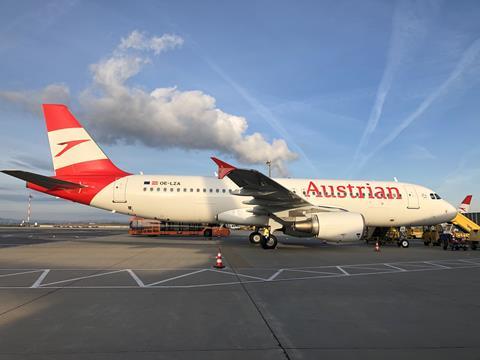 Chief executive Alexis von Hoensbroech states that Austrian has "sufficiently full" coffers as a result of the €600 million ($720 million) financial support package agreed by the Austrian government and Lufthansa Group in 2020, as well as its own cost-cutting efforts.
But he adds: "The second coronavirus wave and new lockdowns have costed us important reserves. We have to take precautions if the summer turns out to be weaker than hoped and the longer-term recovery takes longer than previously planned."
Austrian therefore intends to implement measures to "further secure" liquidity in the short term and improve the company's financial performance in the long term. An effort to halve the airline's head-office space has been accelerated, moving the deadline forward to summer from autumn 2021.
Further measures are being evaluated, Austrian says, noting that short-time working arrangements currently in place for the airline's 6,400-strong staff are "essential" to reduce pressure on the business.
"Extension of the corona short-time work is the decisive lever for us to secure as many jobs as possible in our company," von Hoensbroech states, adding: "We need to consequently make savings also in the future in order to overcome the effects of the pandemic."
Employees were informed of Austrian's current business outlook, says the airline. The increased savings effort is part of a plan to newly position it. While that is still under development, Austrian says it will concentrate more on tourism traffic than in the past.
Chief commercial officer Michael Trestl states: "We are currently still assuming a noticeable market recovery in the summer." He predicts that pent-up travel demand, especially for tourist destinations, will emerge during the summer season.
Additionally, Trestl says, Austrian intends to grow its cargo activities in coming months. In 2020, the airline removed seats on two of its Boeing 777s to increase capacity for cargo-only flights. Prior to the crisis, Austrian had handled belly freight only.
Under a fleet reduction plan disclosed in 2020, Austrian says that it currently still intends to cut its operation from 80 to 60 aircraft. Three of the airline's six 767s will be retired by year-end, while Austrian's remaining eight De Havilland Dash 8-400 turboprops will be decommissioned by March. All seven of its Airbus A319s are to be retired between summer and early 2021.
"Like all airlines, Austrian will be a smaller airline after the pandemic," states chief operating officer Jens Ritter. He argues: "The winner of the crisis will be whoever can adapt to the 'new normal' with the greatest possible flexibility."
Austrian made an adjusted operating loss of €341 million during the nine months ended 30 September, down from a €17 million profit a year earlier.
Before the pandemic, Austrian had started a restructuring programme amid increased competition from low-cost airlines in Vienna.