Europe's legacy carriers should respond to a reduction in long-haul business class revenues by slashing first class and expanding premium economy, in order to maintain their margins in the post-pandemic era, HSBC has suggested.
The bank posits that although such a move would hurt revenues, it would also reduce costs and improve the environmental performance of aircraft.
"We recognise the importance of long-haul business class travel to flag carriers, but our modelling shows that airline management teams have strategic choices available that can defend profit margins as flying recovers," writes HSBC in a note to clients published on 7 June.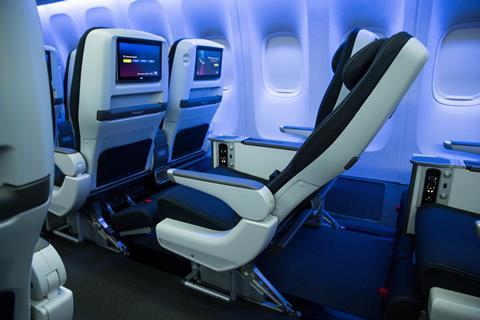 "We specifically see merit in reducing or indeed exiting first class and allocating significant parts of the reduced business-class floorspace to premium economy."
HSBC's recommendations presume significant changes to customer demand going forward.
The bank shares the consensus view that business travel "will be the slowest component of air travel to recover", noting varying assessments of a 15-50% fall from pre-pandemic levels.
HSBC also notes that business-class travel had been reducing in popularity for some time before Covid-19, and that the pandemic accelerated the trend.
Although business class has the highest margins for carriers, premium economy is "very close" for IAG and far stronger than economy for both Air France-KLM and Lufthansa.
For IAG, premium economy is a match for business class in terms of operating margin per unit of floorspace.
In contrast, HSBC believes that for the four European carriers that use it – Air France, British Airways, Lufthansa and Swiss – first class is loss-making.
Given these economic dynamics, "it is not unreasonable for flag carriers to aspire to pre-pandemic margin goals. Cutting the losses of first [class] and building premium economy have potential to defend profitability."
HSBC sees IAG as "surprisingly well placed to navigate a reduction in premium cabin exposure", as the group's margins improve in a scenario of reduced premium floorspace.
For Air France-KLM, the situation is more nuanced. Air France's margins fall under scenarios of a downgraded premium offering, driving a significant reduction in profit, although the bank says this could change given the presence of a group-wide strategic plan to achieve sector-average margins. KLM meanwhile has a successful premium-economy product, HSBC asserts.
The bank believes Lufthansa Group's revenues would be hit by a reduction in business-class revenues, but margins would be supported by the paring back of first class. Although the group's premium economy offering remains weak in terms of earnings, it is better than Air France's, HSBC argues.
Europe's carriers are already adjusting to a new reality, HSBC notes, as first and business-class floorspace is being reduced at British Airways and Lufthansa, spurred on by the retirement of four-engined aircraft.
The bank highlights execution risks to making the changes: long-haul aircraft configuration changes are expensive at a time when airlines are focused on minimising cash outflows. First class also performs a marketing function on many routes and is "deemed to have a halo effect on the broader business".