Cathay Pacific Group expects to post a net loss of about HK$9.9 billion ($1.28 billion) for the six months ended 30 June, even as it gradually adds capacity back to its network.
The first-half net loss, which is subject to auditor reviews, is a stark contrast to its financial performance a year ago, where the group made a net profit of HK$1.3 billion.
The group's carriers — comprising mainline carrier Cathay Pacific, regional arm Cathay Dragon, and low-cost unit HK Express — have all been badly hit by the coronavirus outbreak, amid global travel restrictions and a consequent collapse in travel demand.
Outlining the profit warning in its traffic results for June, Cathay says that part of the net loss takes in account impairment charges — of about HK$2.4 billion — relating to 16 aircraft which "are unlikely to re-enter meaningful economic service again before the 2021 summer season".
Cathay did not elaborate which aircraft these are. Cirium fleets data shows Cathay has 50 aircraft in storage, including Airbus A330-300s and Boeing 777-300ERs. Cathay Dragon has 27 aircraft in storage, the majority of them A320 family aircraft. HK Express, meanwhile, has grounded its entire fleet of 25 A320 family aircraft.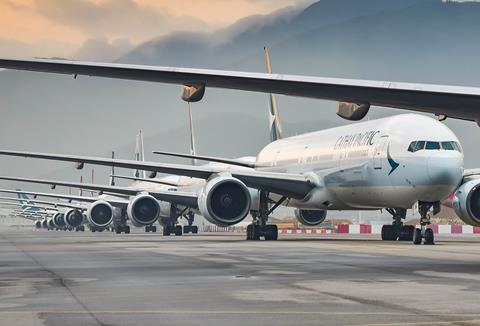 Since March, the group has warned of a "substantial" loss for the first half of the year, as it flagged the impact of the pandemic on its profitability. It disclosed in June that it was losing HK$2.5 to HK$3 billion in cash a month since February, when the coronavirus outbreak became more widespread.
In recent months, the group has gradually restored some capacity into its network. However, Cathay group chief commercial and customer officer Ronald Lam notes that the "incredibly uncertain" global aviation landscape means the group has "still yet to see any significant signs of immediate improvement".
Cathay's shareholders on 13 July approved a HK$39 billion recapitalisation plan, led by the Hong Kong government. Cathay first announced the plan, which comprises three tranches, in June.
That month, Cathay and Cathay Dragon carried 27,106 passengers, a month-on-month increase of about 48%, but a dismal 99.1% decline compared to last year.
RPKs for June fell 98.8% year on year, while capacity, measured in ASKs, saw a 96.1% decline.
Passenger load factor for the month came in at 27.3%, a year-on-year drop of 59.3 percentage points.
On the traffic figures, Lam says demand in June "continued to be very weak", with the two carriers carrying an average of around 900 passengers daily for the month.
"We observed a gradual pickup in connecting passenger demand as the ban on transit traffic through Hong Kong International Airport began being partially eased. Towards the end of the month, transit traffic reached about 32% of overall traffic, with notable demand from destinations in Southeast Asia such as the Philippines and Vietnam to North America. This change in traffic mix meant a more tapered average yield performance though," Lam adds.
Looking ahead, Lam says Cathay and Cathay Dragon will operate at about 7% capacity for July, and increasing to 10% in August