Cathay Pacific is encouraging its employees to take three weeks of unpaid leave, in a bid to save money, after being forced to slash capacity by 30% as a result of falling demand related to China's coronavirus outbreak.
"Preserving cash is the key to protecting our business," says the Hong Kong airline in an emailed statement. "We have already been taking multiple measures to achieve this. Today, we are appealing to all employees to participate in the special leave scheme (SLS), which will take effect from 1 March and last until 30 June.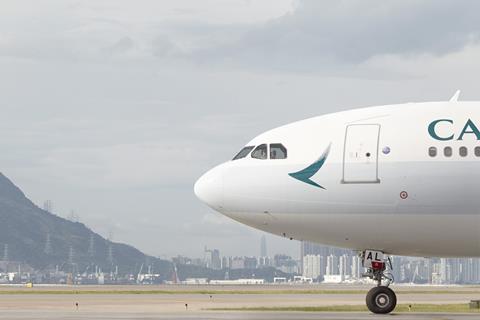 "All employees will have the option to take three weeks of unpaid leave in this period."
The carrier on 4 February revealed a planned 90% reduction in mainland China flights and an overall capacity cut of almost a third in response to the coronavirus outbreak. It emphasised, however, that its "current financial position remains strong", describing the reductions as "temporary for now".
Cathay had already been experiencing falling traffic prior to the coronavirus outbreak and late last year announced plans to cut capacity by 1.4% in 2020. In December, the airline group's chief customer and commercial officer Ronald Lam warned that the rest of 2019 would be "incredibly challenging" and reiterated earlier comments that the carrier's second-half financial results would be "significantly below" those of the first half.
The airline has been hit hard by political unrest in Hong Kong, where pro-democracy protests have been raging since June