Despite forecasting "historically high" losses for the first half of 2022, China's three largest carriers are expected to see strong summer recovery, says a HSBC Global Research report.
The 19 July report also point out the 'Big Three' – comprising Air China, China Eastern Airlines and China Southern Airlines – could swing to a small profit in the second-half of the year, on the back of a projected rebound.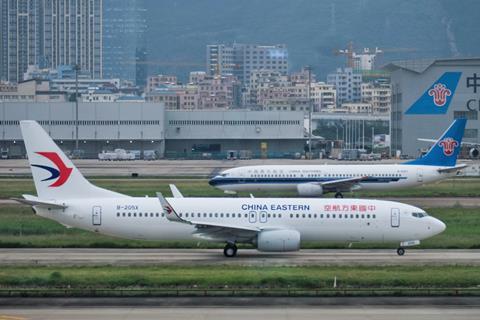 HSBC forecasts China Southern to swing to the black in the second-half of this year, while Air China and China Eastern are expected to only make a smaller loss, "close to break-even".
It points out that the "picture for demand recovery in Mainland China is clear", adding that the 'Big Three' are already "seeing signs of swift demand recovery".
The three state-owned carriers are each expected to chalk up record half-year losses – their worst-ever financial performance – on the back of long-drawn pandemic restrictions in China since the start of the year.
During six-month period to 30 June, parts of China – including airline hubs of Beijing and Shanghai – were placed under lockdown, severely impacting domestic travel demand. Traffic results from the 'Big Three' showed domestic passenger numbers plunging to historic lows in April, when Shanghai was in the middle of a long-drawn lockdown.
Since then, China has gradually eased these curbs, helping Chinese carriers recover some levels of domestic travel demand in May and June.
The HSBC Global Research report notes that there are "various policies" from Beijing to support the domestic airline sector.
"While it is difficult to predict further Covid-19 outbreaks, we are confident that the policy response will be nimbler and subsequent traffic recovery more rapid," the report states.
On international demand, it points out China's intentions to "reboot the international aviation market", including recent announcements to ease the length of quarantine for inbound travellers.
The report is bullish on the Chinese market, reiterating that pent-up demand will drive recovery past pre-pandemic levels.
It states: "China is catching up with the rest of the world. We expect the recovery trajectory to accelerate during the summer season and believe it's only a matter of time until China's aviation industry surpasses pre-pandemic levels, driven by strong travel sentiment, intact travel demand and China's gradual relaxation of Covid-19 rules."