South African carrier Comair warns that it expects to post a loss for the six months ending 31 December 2019 because of the ongoing Boeing 737 Max grounding and an unpaid debt by South African Airways.
The British Airways franchise partner, which also operates budget unit Kulula, says in a notice to the Johannesburg Stock exchange that its earnings per share for the first half of its financial year are expected to be more than 170% lower than the comparable period of 2018.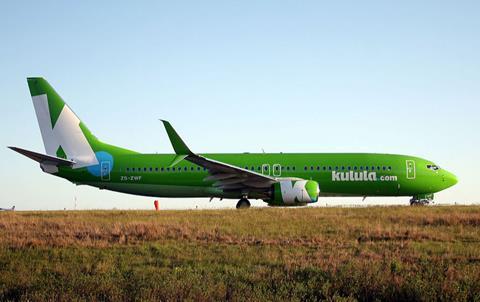 The carrier attributes the loss to increased operating costs from replacing five owned Boeing 737-400s with five leased 737-800s, as well as increased line maintenance costs arising from the transition of its fleet from SAA Technical to Lufthansa Technik.
"Furthermore, earnings continue to be negatively impacted by cumulative losses incurred as a result of the ongoing grounding of the Boeing 737 Max 8," states Comair, adding that compensation negotiations are "underway" with Boeing but remain unresolved as yet.
Comair had taken delivery of one Max 8 before the grounding took effect. It was due to receive a second in March 2019 and a third this month. The airline says it has received "no revised delivery dates" from Boeing.
Adding to the carrier's woes, South African Airways last year agreed to pay Comair Rs1 billion ($67.4 million) over the course of a period beginning on 28 February 2019 and ending 28 July 2022, in order to settle a long-running legal dispute over travel-agency incentive schemes.
However, Comair states that SAA "failed to make the payment of the capital and interest amount due on 28 December 2019" and is now "in breach of its obligations in terms of the settlement agreement".
The carrier adds that SAA still owes it Rs790 million but says "the future recoverability of the outstanding amount is uncertain" because SAA has now been placed under business rescue.