More than eight weeks after the world first learnt the term "coronavirus", the outbreak has spread beyond Asia, with Europe, the Middle East, and even North America now on high alert.
Closer to the epicentre in China, Asia-Pacific airlines have been grappling with the shock to air traffic demand, but it appears that other regions are just starting to see the full extent of what the World Health Organization terms a "global health emergency".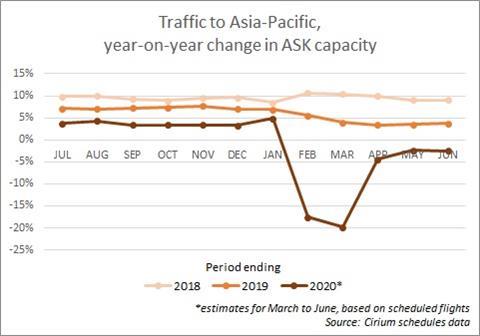 In a 5 March briefing held in Singapore, IATA noted that previous disease outbreaks had peaked after one to three months and that air traffic had recovered to pre-outbreak levels in six to seven months. It cited examples such as the impact of 2015's Middle East Respiratory Syndrome (MERS) on South Korean air traffic, 2013's Avian flu outbreak on Asia-Pacific, and, most prominently, 2003's Severe Acute Respiratory Syndrome (SARS) on the same region.
If the coronavirus's impact follows this profile, IATA's chief economist Brian Pearce warns, there would be a 13% loss of RPKs in 2020 for Asia-Pacific airlines, equivalent to a $28 billion reduction in passenger revenues.
The global impact for the year will be much larger. IATA has factored two scenarios into its analysis: limited spread and extensive spread.
"The turn of events as a result of Covid-19 is almost without precedent," says the association. "In little over two months, the industry's prospects in much of the world have taken a dramatic turn for the worse.
"It is unclear how the virus will develop, but whether we see the impact contained to a few markets and a $63 billion revenue loss, or a broader impact leading to a $133 billion loss of revenue, this is a crisis."
Across the world, airlines have announced schedule changes and capacity cuts. These have evolved from a direct response to travel restrictions, to managing reduced demand for air travel.
Most of the cuts have been focused on traffic into Asia-Pacific, with announced changes extending as far as late May. Outside of mainland China, Hong Kong is one of the most badly affected areas, as the outbreak exacerbated last year's impact from civil unrest in the city, to which Virgin Australia has decided to stop operating services.
Southeast Asia had been prominent on the list of travel restrictions in early February, but South Korea has emerged as the worst-hit outside of mainland China, followed by Italy and Iran.
As of 6 March, there are more than 98,000 confirmed cases globally, according to data compiled by the Centre for Systems Science and Engineering at Johns Hopkins University. Of these, over 80,000 are in mainland China. There are 6,593 in South Korea, 3,858 in Italy, and 3,513 in Iran.
South Asia had previously seemed relatively unaffected, but now there are 30 cases in India, five in Pakistan, and one each in Bhutan, Nepal and Sri Lanka.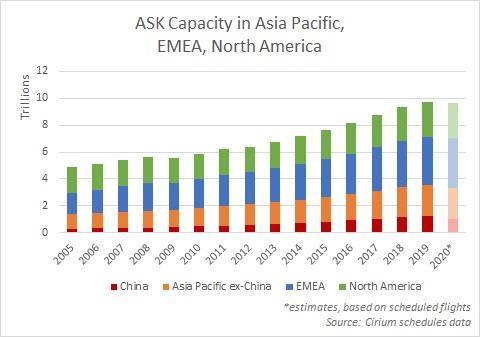 With new information about the virus emerging at every turn – some recovered patients have tested positive a second time – Asia-Pacific carriers are without a doubt struggling to see beyond the fog, but Cirium schedules data suggest they rely heavily on their SARS experience to chart the way forward.
Schedules over the next few months show expectations for the year-on-year decline in air traffic into Asia-Pacific to bottom out in February and March, with ASK capacity declining by 18% and 20%, respectively. This then bounces back to a less-than-5% decline until at least June, reflecting what IATA's Pearce calls "the V-shaped recovery".
There are caveats: schedules are subject to change, and the picture beyond May is murky, given how the outbreak has panned out so far. Nonetheless, the data offers an insight into planned capacity in the near term.
What the data also suggests is that other regions – North America as well as Europe, the Middle East and Africa (EMEA) – are not yet bracing for what's to come.
Even without the panic over coronavirus shifting westwards – very recently but extremely rapidly – China is a huge market that has grown over the years. Cirium data shows that China accounted for more than 11% of global air traffic in 2018 and 2019, while data from IATA indicates it had an 18% share of the global economy generated from travel and tourism in 2018.
As the trade body cautions: "The SARS experience underestimates today's impact because China's economic size is now much greater."
Based on scheduled flights, North America is expecting to see ASK capacity grow 2.3% in April and 3.6% in May, after a 0.6% decline in March. Likewise, EMEA shows 2.9% growth in April and 4.7% in May, following a 1% drop in March.
It is telling, though, that capacity in EMEA and North America each grew by about 3.5% in March to April last year, so it appears that North America takes a more optimistic view, even as US carriers extend cancellations to China.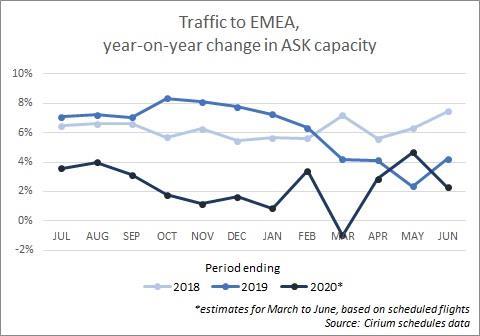 Public sentiment may shed some light on this. US president Donald Trump, who in recent days met with US airline chiefs to discuss a response, earlier called the coronavirus outbreak the "new hoax" of his political rivals. This was days before the country confirmed its first coronavirus death on 4 March.
Trump's approach is not unique. In Southeast Asia, Indonesia's health minister attributed the country's glaring lack of coronavirus cases to blessings from a higher power, but two cases have since emerged there.
Iran's supreme leader, Ayatollah Ali Khamenei said in a 3 March post on his official Twitter page: "I don't want to say it's unimportant but let's not exaggerate it either. The coronavirus won't affect the country for long [and] will leave. But the experience it brings, [and] the actions of the people [and] the [government] sectors are like a [public exercise] that will remain as an achievement."
Perhaps having learned the good lesson that came from the SARS outbreak, airlines and the broader aviation industry are being quick to respond this time round.
Governments across Asia have openly declared their support, offering aid and subsidies to keep tourism afloat.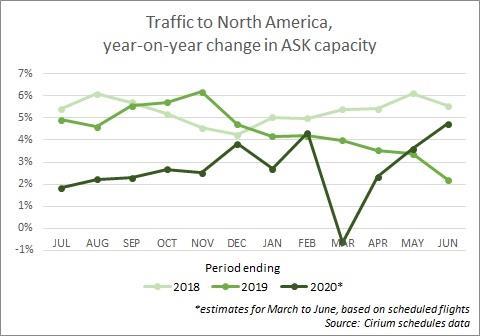 China's CIB Leasing is allowing eight of its airline customers that provided assistance to Wuhan, the virus epicentre, to delay rental payments interest-free.
Singapore is rolling out a six-month support package, valued at S$112 million ($80 million). From March to May, Jakarta is offering incentives for airlines to reduce airfares under a Rp500 billion ($35 million) programme which will be periodically reviewed.
Airports of Thailand is also taking the opportunity to manage flight schedules at gateways under its care, and operates a bonus scheme which rewards airlines that request cancellations ahead of time.
Nonetheless, it has become increasingly clear that the impact of the coronavirus is of a different scale.
UK regional carrier Flybe is the latest airline to go under, and its shareholder Virgin Atlantic says the coronavirus outbreak dealt the final blow.
IATA's Pearce says: "One of the dangers is the airline industry is very fragile given the cash flow shock… and will need support."
Airline executives across Asia have volunteered to take pay cuts to conserve cash, a common move in the region during times of major crisis. The downside, however, is that this may contribute to what economists term a "self-fulfilling recession", where talk of recession alone is enough to make it a reality.
Despite the obvious challenges, Pearce tells Cirium the industry will stand firm.
"Whenever we get shocks like this, there's a lot of change in the industry. Many airlines operate on very thin margins and so we do get failures," he says.
"Shocks like this will undoubtedly happen, but you also get new entries as well. So I think it will remain a very competitive industry."
Story by SiMin Ngai, Dasboard Asia Editor at Cirium