South Korea's Eastar Jet is going ahead with plans to cut 605 jobs as part of its efforts to attract a new investor, according to local media reports.
Further job cuts are expected following additional restructuring measures, broadcaster KBS World reported on 13 October.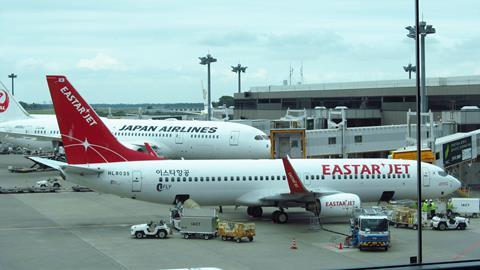 The move is part of the low-cost carrier's efforts to find a new investor after compatriot Jeju Air in July scrapped plans to acquire a 51% stake in Eastar, news agency Yonhap reported on 21 September.
Eastar's senior vice president Kim You-sang was quoted as saying: "Our lead managers and two private equity funds [that have an interest in investing in Eastar] want the company to reduce our fleet and workforce, among other things."
Then, the carrier said it plans to maintain 590 employees across divisions, just enough to operate six aircraft, and that none of the maintenance roles were affected.
The airline had in August identified consulting firm Deloitte Anjin, corporate law firm Yulchon and brokerage Heungkuk Securities as advisors in its search for a new buyer.
It said in September that 10 companies, including private equity funds, had expressed their intention to acquire Eastar. It targeted to select a preferred negotiating partner by the end of September, and push forward a merger and acquisition in October.
Cirium fleets data show that Eastar's all-Boeing fleet comprises two 737 Max 8s, two 737-900ERs and 12 737-800s, all in storage. The 737 Max 8 jets are on average about two years old, the 737-900ERs average more than 13 years old, while the 737-800s range from 10 to 19 years old.
The airline has orders for another four 737 Max 8 jets.