Executives from EasyJet and Wizz Air have called on the UK government to allow fully vaccinated travellers to enter the country without being required to undertake a Covid-19 test.
Speaking during the Airlines 2021 event in London on 22 November, EasyJet chief commercial officer Sophie Dekkers said the UK's current Covid-19 testing policies are a "real shame" that weigh on demand.
She compares demand in the UK to that in Europe – where vaccinated travellers can travel without testing – noting the "much stronger" recovery in the latter.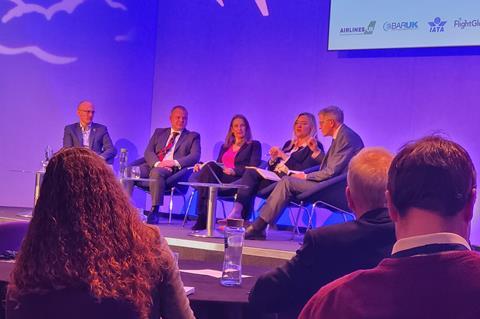 Speaking on the same panel, Wizz Air UK managing director Marion Geoffroy calls on the government to take a "risk-based approach" and "revisit vaccinated traveller status".
"The whole point in vaccination was to avoid this," Geoffroy says of day-two Covid-19 testing for travellers to the UK.
Speaking earlier at the same event, UK aviation minister Robert Courts said the government would undertake a review of travel restrictions early in the new year.
"We all want to reduce, not just testing but all the restrictive measures… we are going to be reviewing that policy in January [2022]," Courts said.
The review will come too late for the crucial Christmas travel period, Dekkers laments, adding that "demand flinches with each government announcement", with airlines themselves having little influence on driving fundamental demand trends.