Indonesia's embattled flag carrier Garuda has revealed the dire extent of its downsizing of operations as it urgently seeks to restructure its business and stem losses, and may need to consider a future largely focused on domestic flying.
Garuda currently operates just 53 aircraft of its fleet of 142, it says in a response to wide-ranging queries from the Indonesia Stock Exchange on its operations and restructuring.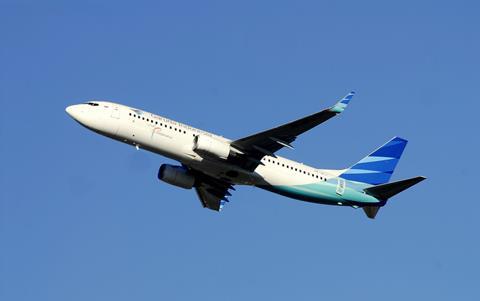 The latest details revealed by Garuda paint a grim picture of a carrier whose troubles started before the pandemic.
Garuda says it is "in the process of conducting a comprehensive study, which includes operational aspects, strategy, business transformation and finance, as part of restructuring efforts that take into account market needs in the new normal".
Time is not on its side. Garuda's debts have snowballed to Rp70 trillion ($4.9 billion) and are forecast to continue increasing by Rp1 trillion every month amid the pandemic, a House of Representatives member told Indonesia's parliament on 3 June.
The airline is seeking to suspend debt payments to creditors and lessors and restructure to reduce its debt from $4.5 billion to $1-1.5 billion, according to a Reuters report dated 3 June.
Garuda says in its stock-exchange filing that it is "continuing to negotiate with lessors on grounded aircraft".
It adds that it intends "to return to [operation] or carry out early termination or return of aircraft [in consideration of] the needs of the fleet according to service demand in the 'new normal'".
Currently, Garuda operates slightly over one-third of its fleet: six Boeing 777-300s, three Airbus A330-900s, seven A330-300s, two A330-200s, 27 737-800s, three Bombardier CRJ1000s and five ATR 72-600s.
The carrier says it owns only six of its aircraft, all A330-300s, and leases the remaining 136. Of the 89 not in service, 39 are listed by as "under maintenance": 10 A330-300s, nine 737-800s, eight ATR 72-600s, four 777-300s, four A330-200s, three CRJ1000s and a 737 Max 8.
Garuda says it has "adjusted or reduced flight frequency to optimise the use of its fleet for passenger-intensive routes", based on the market conditions and passenger demand.
In a Reuters report dated 7 June, Garuda is quoted as saying it returned a pair of 737-800 jets to a lessor before the lease term was up.
Shukor Yusof, founder of aviation consultancy Endau Analytics, tells Cirium he expects the negotiations to be "a long-drawn-out war of attrition between airline and lessors".
He adds: "Indonesia is a very important market, [with] almost 300 million people, and will almost certainly be one of the first, if not the first, to recover from the pandemic in ASEAN. Unless lessors are ready to compromise (and accept losses), there's no easy way out for both parties.
"What is clear is that the longer the crisis persists, the worse it becomes financially for Garuda to a stage where it becomes pointless to talk about payments."
In today's statement, Garuda stresses: "What we can convey at this time [is that] the main focus of the company is to ensure business continuity [by taking] various strategic steps."
These steps include optimisation of business lines, especially cargo and charters, and reduction of operating expenses from optimising fleet productivity, negotiating with lessors, human resource management and route restructuring.
FLEET DOWNSIZING
As part of restructuring, Garuda plans to halve its current fleet to less than 70 aircraft, according to minutes of an internal company meeting cited in several Indonesian media reports.
Analysts say the downsizing is expected.
Herman Tse, an aviation analyst at Ascend by Cirium, foresees that Garuda is likely to reduce its large numbers of 737-800s and A330s.
Jakarta-based analyst Gerry Soejatman, who runs his own aviation consultancy, considers the fleet-reduction forecast "realistic", although "some (if not many) within Garuda may see this as too pessimistic or disappointing".
He expects that Garuda's ATRs, of which it has 13, will continue to be offloaded to low-cost arm Citilink, while its 737-900 fleet will be reduced to "about 40 or so". The CRJ1000s, he says, will eventually go as the aircraft is poorly suited to the Indonesian market.
As for widebodies, Soejatman says it is likely Garuda will reduce its 777-300ER fleet to five or six aircraft, if not zero. The rest of the twin-aisle fleet will be made up of current and on-order A330s, though the number of these may shrink.
DOMESTIC FOCUS
The reduced fleet, with fewer widebodies, will entail a marked shift for Garuda's network strategy, and analysts expect the airline to focus on domestic routes.
Endau's Shukor agrees that Garuda would be "quite happy to just fly domestically", while, internationally, Amsterdam "remains important due to its historical links".
Ascend by Cirium's Tse notes that the domestic market "will be the primary focus as it recovers quicker than the international market".
In terms of regional flying, he notes that Garuda could in the short term "focus on the connections between Surabaya, Jakarta and cities with more economic activities such as Singapore".
He adds: "The passenger demand of tourism locations such as Denpasar continues to be weak until the lift of the quarantine requirements."
KEEN DOMESTIC COMPETITION
Domestically, Garuda will face keen, if fragmented, competition.
"The bulk of domestic travel has shifted to low-cost carriers, and Garuda is struggling to deal with its domestic operations costs despite the 'good' revenue yield," says Soejatman.
"However, Garuda needs to accept and realise this market shift towards low-cost carriers and stop seeing it a 'conspiracy to eliminate the flag carrier', as some within have put it."
He highlights that Garuda should capitalise on the "opportunity to dominate the full-service niche" and leave competition in the low-cost sector to Citilink.
"The premium sector is still dominated by Garuda, and Batik Air is the nearest competition [that] has so far only managed to capture the lower end of the full-service sector," he says, adding that start-up airline FlyIndo Aviasi Nusantara is reportedly targeting this segment too.
Shukor foresees that Lion Air "will be dominant" and "likely to further increase its market share by the end of this decade".
It is notable that Garuda's activity had already declined prior to the pandemic.
In 2019, domestic and international flights, combined, declined by 26% year on year to about 178,000 flights. Seat capacity was cut 20% to 29 million, according to Cirium schedules data.
In 2020, amid the pandemic, Garuda's activity showed a further 50% drop year on year, to about 89,000 flights, while seat capacity was reduced by the same percentage to around 15 million.
UNCERTAIN FUTURE
In its stock-exchange filing filing, Garuda says it remains "in discussions with consultants and will seek the best option… to restore performance and ensure the company's business continuity, involving all stakeholders and shareholders."
Garuda also notes that it has opened registration for its voluntary early-retirement scheme. It states that the scheme "applies to all employees with no age limit and no minimum employment period", adding that it has not set any targets for the number of employees for this voluntary programme.
It expects to pay out employee pension rights from 1 July, in stages, to employees registered from the scheme.
In a 3 June filing to the Singapore Exchange, Garuda said it had restructured select outstanding payables and arranged amendments with several domestic banks.
The Indonesian government, which owns a majority of the carrier, has provided it liquidity support amid the pandemic.
In 2020, Garuda received a Rp1 trillion export working capital loan from the Indonesia Eximbank, under the National Interest Account programme, as well as Rp8.5 trillion through issuing mandatory convertible bonds, of which Rp1 trillion was used to pay fuel fees to state-owned oil and gas company Pertamina.
Despite its woes, most analysts think Garuda is likely to survive.
Ascend by Cirium's Tse agrees that should restructuring fail, a government bailout "would likely come to prevent bankruptcy of the state-owned airline, as the airline is one of the critical infrastructures of the country".
In the view of Endau's Shukor, meanwhile, the Indonesian government "is unlikely to let [Garuda] fail" and "will find ways to continue to support it, at least domestically and regionally".
Analysis by Naomi Neoh of Cirium