German leisure carrier Sundair has emerged from its 'protective shield' restructuring process after five months of reorganisation.
The airline confirms to Cirium that it has successfully exited the proceedings, with a "perfect future set-up".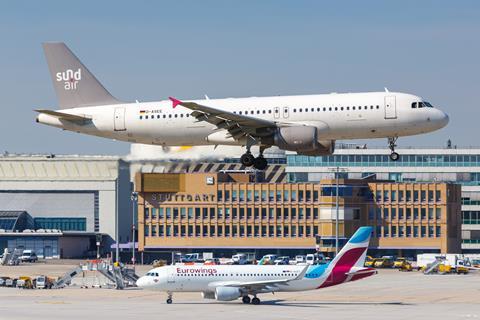 Sundair began the restructuring process in November after being "seriously affected" by the Covid-19 pandemic. Germany's protective shield process allows companies to restructure their businesses under the protection of insolvency law.
The airline says its fleet currently consists of three Airbus A320s and two A319s. In November, Cirium fleets data showed that Sundair had five A320s – three of which were leased – and two A319s. The A319s are managed by BBAM. LATAM Airlines Brazil managed two of the leased A320s and Aircastle one.
Sundair operates from Berlin, Bremen, Dresden and Kassel to Mediterranean destinations, the Canary Islands and Red Sea holiday spots, in partnership with tour operators. It also conducts scheduled flights to Beirut, as well as ad-hoc wet-lease and charter services.