British Airways and Iberia owner IAG expects to operate 85% of 2019 capacity this year, as it reports improving financial performances across its airlines.
Demand for the crucial Easter and summer 2022 periods "remains strong", having regained momentum at the beginning of this year, IAG said as it released its fourth-quarter 2021 earnings today.
That follows a short-term bookings impact from the Omicron variant of Covid-19, the group says.
Acknowledging the downside risks further Covid-19 developments and the geopolitical situation in Europe – the day after Russia launched an invasion of Ukraine – IAG chief executive Luis Gallego nevertheless cites recovery momentum across the group.
"We are confident that a strong recovery is under way," he states. "All our airlines continued to show improvements in the fourth quarter, optimising their performance and further improving their operating results.
"Our diversified business model enabled us to make the most of the recovery as individual markets were affected at different times and in different ways."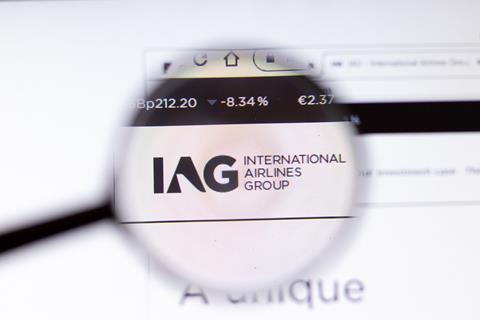 His comments came as the group reported an operating loss of €278 million ($311 million) for the fourth quarter of 2021, compared with a loss of nearly €1.5 billion in the same period of 2020. It took operating losses for the full year to €2.77 billion.
Among the group's airlines, Iberia was a standout, recording an operating profit of €82 million for the quarter, "as it seized opportunities to strengthen its position on routes to Latin America and the Spanish domestic market", IAG says.
Premium leisure travel and visiting-friends-and-relatives traffic were a strong driver of the long-haul recovery at both British Airways and Iberia, the group states. Indeed, long-haul bookings reached 80% of 2019 levels in October and November as the US reopened for non-essential travel, before the emergence of Omicron put the brakes on the recovery.
But the Omicron variant only had a "short-term impact on the operating result, passenger bookings and cancellations", the group says.
Crucially for a business with a relatively high proportion of premium seats in its cabins, "business travel has started to recover, especially on the transatlantic routes", IAG states.
The group's airlines operated 58% of 2019 capacity in the fourth quarter, up from 43% in the third.
Its Spanish operations continued to drive the capacity improvement, with Iberia at 75% and Vueling at 79% of 2019 levels. British Airways and Aer Lingus lagged that recovery, at 53% and 44% respectively.
Capacity is expected to reach 65% of 2019 levels in the current quarter, on its way to a full-year figure of 85%.
The group forecasts "a significant quarterly operating loss" for the first quarter of 2022 due to seasonality factors, the short-term Omicron impact and the ramp-up of operating costs, but is guiding for a full-year operating profit.