India's Jet Airways is a step closer to an operational restart, following the completion of its first test flight.
The carrier - once India's largest privately-owned carrier before it collapsed in 2019 - will now work with civil aviation regulator's to schedule proving flights "in the coming days".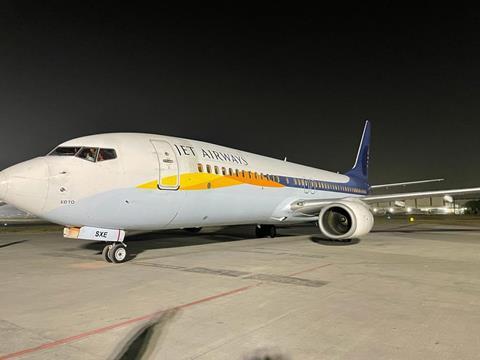 The airline is likely to schedule 10 such flights, according to local media reports, citing sources from the regulator. Thereafter, the Directorate General of Civil Aviation will process and issue the carrier's aircraft operator's certificate, which allows it to start commercial flights.
On 5 May, the airline flew a Boeing 737-800 (VT-SXE) on test flights in Hyderabad, before operating a positioning flight to Delhi.
Cirium fleets data show the aircraft (MSN34802) to have been originally delivered to Jet Airways in 2007, where it operated for 12 years before the airline's collapse. It was later delivered to low-cost operator SpiceJet, before being parked in late 2021.
A debt-laden Jet Airways suspended operations in April 2019 after running out of cash. A resolution plan from new owners Murari Lal Jalan and Kalrock Capital received court approval in June 2021, paving the way for the airline's revival.
Jet Airways had previously indicated plans to commence operations in the first quarter of this year, though media reports now state a revised timeline of the third quarter of the year.
In December 2021, the airline confirmed it was in "advanced discussions" with Airbus and Boeing for a potential aircraft order, but has yet to provide further details.