UK leisure carrier Jet2 is hopeful of offering capacity close to 2019 levels next summer after citing encouraging forward bookings for the period.
Jet2 resumed flights and holidays on 15 July following the coronavirus outbreak. In a statement after the airline's annual general meeting today, executive chairman of Jet2 parent Dart Group, Philip Meeson, says it ramped flying up to 40% of its planned destinations for August.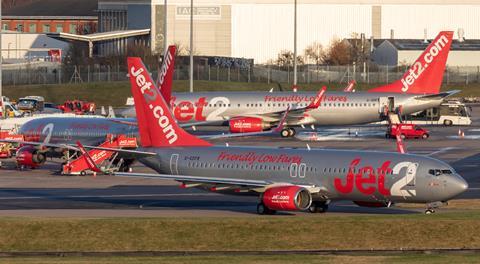 "Whilst there have been setbacks, such as the imposition of quarantines and evolving guidance from the UK government, we have been satisfied with the average load factors and financial contribution achieved to date and will continue to add further capacity, as appropriate, for the remainder of summer 2020," Meeson says.
He notes forward bookings for the winter have not yet matched its revised seat capacity levels, pointing to shorter lead times for bookings from customers than in previous years.
"Therefore, pricing for both our leisure travel products – end-to-end package holidays with Jet2holidays and flight-only seats with Jet2.com – will need to remain consistently enticing," he says.
But Meeson strikes a more positive note around bookings for next summer.
"We plan to fly to all our popular leisure destinations with an appropriate, tailored level of service, which we anticipate will be close to summer 2019 seat capacity levels," he says. "Bookings to date are encouraging, with average load factors ahead of the same point last year and package holiday customer numbers as a proportion of total departing customers showing a material increase."
Jet2 says it has a total cash balance as of 28 August of £1.06 billion ($1.42 billion) – with an 'own cash' balance excluding customer deposits of £629 million. It also notes that a UK government-backed Covid Corporate Financing Facility of up to £300 million is currently unutilised.
The group has previously cited a modelling exercise that shows it would have "sufficient liquidity" for a scenario in which no flights could be operated until August of next year.

"We will continue to take every step necessary to preserve cash and enhance liquidity to ensure both Jet2.com and Jet2holidays are equipped to deal with this most challenging of trading environments," Meeson says.
In June the airline outlined plans to cut more than 100 pilot jobs citing reductions in its flying programme for this year and 2021.
The airline's parent Dart Group, which sold its distribution and logisitics business earlier this year, is also seeking to change its name to Jet2 plc to reflect its primary focus on the leisure travel business. Jet2 chief executive Stephen Heapy has been appointed chief executive of Jet2 plc, with Meeson remaining executive chairman.