UK leisure carrier Jet2 continues to have "limited visibility" for the key summer period and the coming winter season as it eyes a pick-up in travel demand after posting an operating loss of £374 million ($464 million) for the pandemic-hit year to March 2021.
Jet2 operations have been heavily hit by the crisis: the airline's fleet was fully grounded for over half its financial year – approximately 29 weeks – because of widespread travel travel restrictions, and it operated a "significantly reduced" programme when flying was permitted. Jet2 only restarted its international flights and holidays programme at the beginning of July – having resumed flights to Jersey, essentially a domestic destination, a week earlier.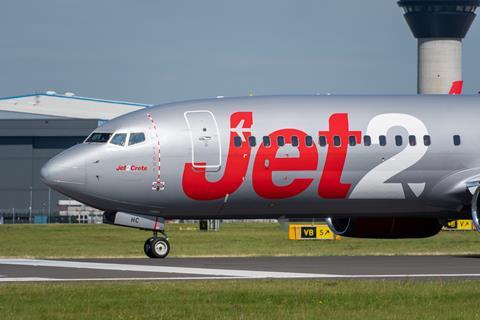 As a result of the disruption, Jet2 flew 1.3 million single-sector passengers during the year ended 31 March, down 91% on the 14.6 million it carried the previous year.
The lower passenger volumes drove an 89% slump in revenues, to £395 million, for the year. Jet2 posted an overall loss for the year on continuing operations of just under £300 million.
Despite the tough year, Jet2 executive chairman Philip Meeson, citing an 'own cash' balance as of 4 July of £1.46 billion, believes the liquidity actions taken position the carrier well to "respond swiftly" to the lifting of the remaining UK travel restrictions.
He says: "Group performance for the financial year ending 31 March 2022 is very much dependent on the level of flying permitted for the remainder of summer 21 and performance in the second half of the financial year, periods for which we still have limited visibility.
"Unsurprisingly given the continuing short-term uncertainty, customers are booking significantly closer to departure for summer 21; and, although bookings to date for winter 21/22 are satisfactory, they have slowed more recently given the ongoing speculation around international travel."
UK transport minister Grant Shapps is expected today to announce more details of plans for quarantine-free travel for those that are fully vaccinated.
Further ahead Meeson strikes a more optimistic note for next summer. "Bookings for summer 22, for which package holiday bookings are displaying a materially higher mix of the total, are encouraging and with the vaccination progress being made," he says. "We are optimistic that summer 22 will be a considerable improvement on both summer 20 and summer 21."