JetBlue Airways lost $1.4 billion in 2020, but is stressing that network and fleet shifts should position it to perform well when the air travel market recovers.
Just when that might happen remains an open question, but JetBlue's executives expect slow improvement in 2021.
"We believe our initiatives will allow us to emerge with structurally better margins," the New York City-based airline's chief executive Robin Hayes says on 28 January.
Those initiatives include a pending partnership with American Airlines, acquisition of new aircraft like Airbus A220s and A321neos, and the expected launch of flights to London.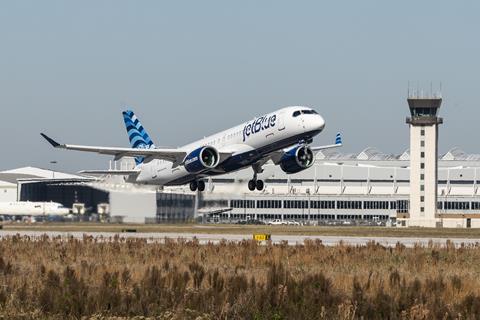 During JetBlue's 2020 earning, Hayes stressed that JetBlue's London plan remains on track despite uncertainty about which airport it might serve and how it will acquire needed slots.
"We are still on track for a Q3 London launch," Hayes says, adding that JetBlue has a "path" to begin operations at "more than one" London airport.
JetBlue has not yet offered those flights for sale and in a recent filing with US regulators said it was having trouble securing London slots.
JetBlue's $1.4 billion 2020 loss compares to a $569 million profit in 2019. JetBlue reports operating revenue in 2020 of $3.0 billion, down 63% year-on-year, and operating expenses of $4.7 billion, down 36%.
JetBlue lost $381 million in the fourth quarter, with revenue down 67% year-on-year. Demand had inched up in October 2020 but slowed in November amid increasing Covid-19 cases and government recommendations against travel.
The airline burned through $6.7 million in cash daily in the fourth quarter, within its predicted range.
JetBlue expects air travel demand might start bumping higher in the coming weeks because, it hopes, lockdowns in places like the Northeast USA will result in fewer new Covid-19 cases.
"We believe that we will begin to see material revenue recovery when there is a meaningful and sustained decrease in Covid case counts," says JetBlue chief operating officer Joanna Geraghty.
A new US government requirement that travellers arriving in the USA from aboard present a negative Covid-19 test is further dampening international travel demand, Geraghty says.
"As a result… we are seeing increased leisure demand to Florida," she adds. "However, Florida fares are low with relatively high levels of industry capacity."
JetBlue continues expanding its fleet with newer, more-efficient jets. It received its first two A220-300s in December last year, and has another 69 of those jets on order, according to Cirium fleets data.
This year, the airline expects to receive an additional seven A220s, five A321neos and three A321LRs.
Meanwhile, JetBlue continues progressing with implementation of a planned revenue-sharing partnership with American. That agreement is limited to flights from Boston and New York and will involve schedule alignment and code-sharing.