Dutch airline KLM will cut up to 5,000 jobs as it attempts to "adapt its size to the new reality" created by the coronavirus pandemic.
The SkyTeam carrier, which secured government support worth up to €3.4 billion ($4 billion) in late July, states that, based on its outlook for 2021-2022, it will need to reduce its workforce from 33,000 full-time-equivalent jobs to 28,000 "in the course of 2021".
"A great deal has already been done in recent months with respect to adjusting the size of our company in the face of a new reality," says KLM chief executive Pieter Elbers. "Unfortunately, more measures are needed in the short term to guarantee KLM's continued existence in the future.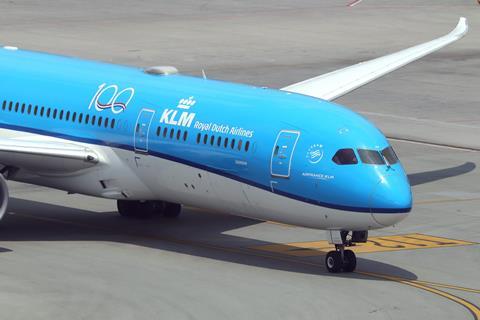 "For this reason, we are elaborating the reorganisation plan to emerge from this crisis in a stronger position, while retaining as many jobs as we can in a responsible manner and repaying the loans as quickly as possible."
Some 1,500 positions will be lost through the "non-renewal of temporary contracts", while 2,000 will be accounted for by a voluntary departure scheme.
But the airline states that "alternative solutions" will need to be found for around 1,500 full-time roles, including 500 ground positions, 300 cabin crew, 300 pilot roles, and around 400 jobs at subsidiaries and Air France-KLM Group functions.
It notes that "natural attrition" through retirement and other factors would count towards the targeted cuts.
The carrier is keeping "open the possibility of further reductions" if the fall in air travel demand is worse than the 20% it expects over the coming two years.
KLM says demand will return to 2019 levels by 2023 or 2024 "at the earliest", adding that the degree and speed of recovery will depend on a number of factors, including the development of the virus, economic recovery and customer travel behaviour.
The carrier will work with employee groups "about further defining the reorganisation", it states, including "more detailed specifications of the conditions set by the Dutch government on issuing the financing package".
It expects to finish that process "in its entirety in the course of October".