Several lessors to Lion Group airlines have agreed to restructure their leases after months of bilateral negotiations, Cirium understands.
"We have reached our agreement and money has started flowing again in December and we are expecting money… for January," one of those lessors tells Cirium.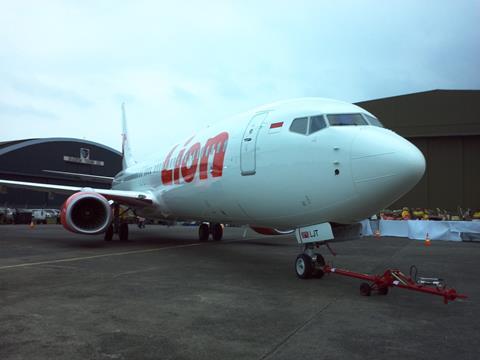 Given the private nature of the negotiations, it is not clear exactly how many lessors have arrived at agreements, but four with exposure to Lion tell Cirium they heard that multiple lessors had done so. One puts the number at about a dozen or more.
More than 40 lessors are exposed to the Indonesian airline group to the tune of well over 200 aircraft, Cirium fleets data shows. To put that in perspective, it is considerably more than the combined number of aircraft involved in the restructurings of three major Asian flag carriers – Thai Airways, Malaysia Airlines and Philippine Airlines.
Four lessors contacted by Cirium said their discussions with Lion Group are still ongoing and they have not yet reached an agreement.
Lion Group's carriers include Lion Air, Batik Air, Wings Air, Malindo Air and Thai Lion Air, although the group is primarily negotiating via its Singapore-based lessor Transportation Partners, with chief financial officer Valerie Tay closely involved in discussions, say people who have spoken with her. Billionaire co-founder Rusdi Kirana has also participated at times, the people add.
These discussions have been going on since at least April, when the group emailed lessors to explain that declining capacity and yields, along with the depreciating rupiah, meant it would need rental deferrals to help it weather the effects of the Covid-19 pandemic.
"It goes without saying that the group acknowledges the terms of the leases and will respect your choice if you prefer not to support as above but prefer to ground the aircraft or find another airline lessee instead," it said in an email seen by Cirium.
It later asked lessors to sign by-the-hour agreements, whereby lessors would only get paid for time flown rather than on a monthly basis regardless of utilisation. That request was not well received by many lessors: one told Cirium in September that it was "unfair" and would lead to "huge losses" for lessors.
Following lessor pushback, the group approached them with an alternative proposal: a four-part plan which involved the partial repayment of rentals over a period of 18 months, instead of a by-the-hour deal.
Under the plan, the group would pay 10% of lease rentals between September and November 2020; 20% between December 2020 and May 2021; 25% between June and August 2021; 50% between September and November 2021; and 80% between December 2021 and February 2022.
In return for those haircuts, it offered lease extensions up until the aircraft are 18 years old, basing the extension rentals on the rates for a 12-year-old aircraft. At the end of the deferral period, a blended rental of the original rent and the extension rent would come into effect.
PLAYING THE LONG GAME
The lessor whose company accepted that offer from Lion in December tells Cirium that 20% – the amount that would be paid between the month of signing the agreement and May 2021 – is "better than nothing".
In addition, the person hopes to keep the company in co-founder Kirana's good books.
Lessors often remark that long-term relationships are the foundation of their industry. This particular lessor thinks that by making concessions to Lion and Kirana now, his company could be prioritised over other more recalcitrant lessors at a later date when the Lion Group reemerges as a stronger business post-Covid.
"There's going to be all the lessors who have been waiting around doing a deal, threatening to sue [Kirana], playing hardball," he says, referring to those lessors still negotiating with the group or taking legal action.
"But if you have ever had a situation, any kind of crisis, the first people that come to you are your family, then friends, and those friends – you remember them."
He adds that it is "easy to go down notches than up" in the relationship-status ladder with airlines, so now is the time to show support.
The person admits his strategy is risky, given that it relies on Lion Group "still being around in 2035 and paying you the agreed rentals". It also depends on the group's ability to pull off a long-delayed initial public offering that it has been talking about since as far back as 2004.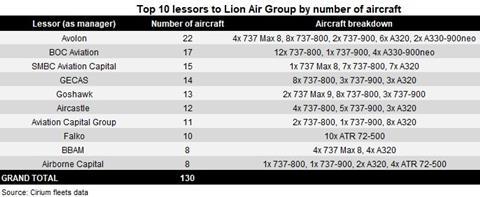 The group has proposed repaying lease rentals that were deferred from March with proceeds from the IPO. If that IPO does not take place by 2027, it says, it will instead amortise the arrears and repay them over the lease term of the aircraft.
A six-year wait is a long time, and there is no guarantee that the IPO will take place. By 2027, Lion will have been considering its IPO for about 23 years.
A second lessor with exposure to Lion says his company has not yet reached an agreement, but that given the dire situation in Indonesia's aviation industry, lessors would probably be best off agreeing sooner rather than later.
"My personal view is the terms are not going to get better. The sooner you sign up the earlier you can [get paid]," he says, adding that it is the best thing to do despite the airline operating in a tough environment.
He points to several negative events in Indonesia in January – the fatal crash of Sriwijaya flight SJ182, the Sulawesi earthquake, and the extension of the country's border closure – as factors that could further delay Lion's recovery.
NEGOTIATION FATIGUE
Another argument in favour of a quick resolution is negotiation fatigue. In Asia-Pacific alone, lessors are swamped with multiple major airline restructurings. The 29 January news that China's HNA Group, which owns about a dozen airlines, could enter bankruptcy will only add more to their plates.
"I think there's a bit of kick-the-can-down-the-road, roll-the-dice mentality, because there has just been too much firefighting everywhere," he says, adding that he does not expect Lion to change its negotiating style any time soon.
Other carriers in the region, such as Thai Airways and Malaysia Airlines, are undergoing court-led restructurings, which provide a formal structure and disclosures to creditors. Lion has not opted for this path, instead negotiating one-on-one with lessors and publishing almost nothing publicly.
"Lion is just going to do this bilateral and relatively non-transparent process where they can divide and conquer," the second lessor says.
He adds: "It's a good game they are playing for themselves; it's not a good game for the lessors. Given the situation in Indonesia and Southeast Asia, there is very little the lessor can do and very limited leverage the lessors have on Lion Group."
Analysis by Michael Allen of Cirium