Lufthansa Group's overall results improved in the first quarter, although rising fuel costs held back the recovery of its passenger airline business during the first three months of the year.
The German airline group reported an overall first-quarter net loss of €584 million ($618 million), compared with a €1.05 billion net loss in the same period a year ago.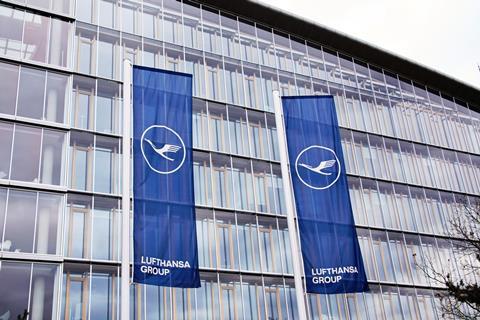 While its overall adjusted EBIT improved 44% to €591 million, there was a slower a recovery in its passenger airline division as losses narrowed to €1.14 billion from €1.36 billion a year ago. Lufthansa attributes this to rising fuel costs and low load factors at the beginning of the quarter.
However, the group says that yields were "close to pre-crisis levels", and passenger demand began to "strongly" recover in March. Its full-year forecast for an improvement in adjusted EBIT remains unchanged.
"The restrictions on air traffic have been largely overcome," says Lufthansa chief executive Carsten Spohr. "The past few weeks in particular have clearly shown how great people's desire to travel is."
Lufthansa Group carried 13 million passengers in the first quarter, up from 3 million in the first three months of 2021. It "significantly increased" capacity towards the end of the quarter, and says that average capacity was 57% of pre-pandemic levels.
Bookings increased "sharply" towards the end of the first quarter, particularly for flights to the USA, South America and Mediterranean destinations. The group expects to operate 75% of pre-pandemic capacity in the second quarter, rising to 95% and 85% on European short-haul and transatlantic routes, respectively.
Group-wide revenue more than doubled to €5.36 billion in the first three months of 2022. Passenger airline revenue grew to €3.02 billion from €961 million the previous year. The biggest improvement in adjusted EBIT was at Swiss, where this loss narrowed to €62 million from €211 million a year ago. Lufthansa says it will terminate stabilisation measures in Switzerland ahead of schedule in the second quarter.
Increased profits at its cargo and MRO units helped further drive the group's improved first quarter performance. Lufthansa reported a 57% improvement in adjusted EBIT profit in its cargo division, to €495 million, on the back of continued strong demand for air freight amid disrupted global supply chains.
Lufthansa Technik's adjusted EBIT profit also improved, from €45 million a year ago to €120 million, but the figure for its catering division worsened to a €14 million loss from an €8 million loss a year earlier. LSG faced a "challenging" market environment in the first quarter, which was compounded by the absence of government support measures in the USA, says Lufthansa.
Lufthansa Group ended the period with €9.9 billion of available liquidity, up from €9.4 billion at the end of 2021.
"Demand has recovered faster and stronger than expected in recent weeks," says Lufthansa chief financial officer Remco Steenbergen. "The current level of bookings gives us confidence that our financial results will further improve in the coming quarters."
However, he warns that Lufthansa "must pass through rising costs to customers".