Lufthansa has incorporated a new entity named Ocean to operate long-haul flights to tourist destinations and reduce the "complexity" of the group's current presence in that segment.
The German airline tells Cirium it is in the process of securing an air operator's certificate for the new unit, which will not operate under its own brand.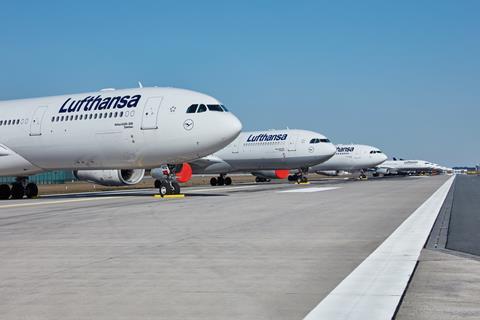 "The idea is to develop a new product line in the quality leisure segment… based on Edelweiss's business model," says Lufthansa.
Edelweiss – a leisure affiliate of group carrier Swiss – serves long- and short-haul tourist destinations from Zurich with a fleet of Airbus A320s, A330s and A340s.
Lufthansa describes its current long-haul tourist operations as "fragmented", noting that it employs four AOCs for such routes from its main hubs in Frankfurt and Munich and from Dusseldorf.
With the largest airport in Germany's most populous state, Dusseldorf has for decades been a long-haul departure point for several airlines, including Lufthansa and the now-defunct Air Berlin.
Lufthansa serves long-haul tourist destinations both through its budget subsidiary Eurowings and under its mainline brand.
Eurowings' long-haul routes have been operated by the German arm of SunExpress – Lufthansa's leisure joint venture with Turkish Airlines – using a fleet of A330s. However, SunExpress in June disclosed a plan to shut down its German operation.
In the past, Lufthansa additionally recruited Brussels Airlines, another group subsidiary, to operate flights on Eurowings' behalf. But after a review in 2019, Lufthansa took commercial control of Eurowings' long-haul flights and the Belgian carrier's remit was changed to concentrating on network services from its home country.
Under its own brand, Lufthansa deployed a number of A340-300s with denser cabin configuration on leisure routes, using a unit interally dubbed Jump which operated the widebodies under the AOC of Lufthansa's regional CityLine division.
When Lufthansa adopted a new collective agreement with mainline pilots in 2017, the airline promised it would abandon Jump, to appease the unions. CityLine's website still lists A340s as part of its fleet today.
In April, Lufthansa said it would phase out three CityLine-operated A340-300s as part of wider fleet-reduction measures in response to the coronavirus crisis.
Lufthansa has not specified the four AOCs it is currently using for long-haul tourist flights. The group says that the "new AOC" will result in a "significant reduction in the complexity for the development of the long-distance tourist [network]".
The airline declined to specify a launch date or aircraft types for Ocean, but refers to a 2019 presentation that shows Lufthansa wants to merge its "current fragmented [tourist-market] operating units into one AOC until 2022".
According to that presentation, the group had stationed four long-haul jets in Frankfurt, four in Dusseldorf and three in Munich for tourist routes at the time, while the objective of the new, merged division is to facilitate "high flexibility and competitiveness".
Lufthansa says that Ocean will concentrate on "touristic short- and long-haul routes" from its Frankfurt and Munich hubs and "complement the portfolio of Lufthansa and Eurowings".