Lufthansa has reached a deal with the Vereinigung Cockpit union covering pilots at its German operations over cost-cutting measures for the rest of the year.
The deal includes a series of short-term concessions, in return for which redundancies for "operational reasons" will be averted until at least the second quarter of 2021.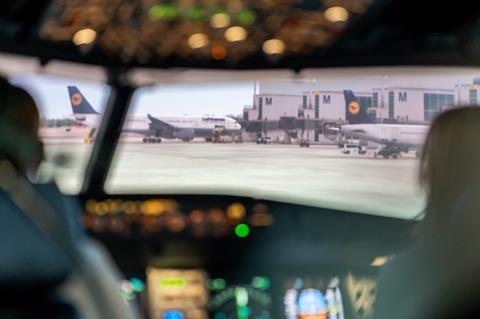 The measures, which apply for the remainder of 2020, cover pilots at Lufthansa, Lufthansa Cargo, Lufthansa Aviation Training, plus certain pilots at Germanwings.
"From September onwards, among other things, the increase in short-time working allowance and employer contributions to fund retirement benefits will be reduced. Tariff increases agreed for 2020 will be postponed to January 2021," Lufthansa says.
The airline has also pledged to exclude the operational dismissal of these pilots until 31 March 2021.
But it adds the significant overcapacity among the pilots will last "considerably longer" than March 2021. "The number of redundancies for operational reasons can therefore only be limited by concluding a long-term crisis agreement," the carrier says. "In a long-term crisis package, the costs of excess staff could, for example, be offset by a corresponding reduction in working hours and salaries for the period of the crisis."
Lufthansa also says it will refrain from hiring new pilots from outside the group in all German flight operations as long as there are surplus staff. "This also applies to the management of tourist flight operations. In particular, the pilots of SunExpress Germany and the German branch of Brussels Airlines, who have flown tourist traffic in recent years, can switch to these," the airline says.
"Negotiations on reconciliation of interests and social plans will be continued with the respective cockpit staff representatives. This process is furthest advanced at Germanwings, whose flight operations are not to be continued in view of the effects of the corona pandemic."
Lufthansa says the measures are effective immediately after being backed by both the airline's board and the union's committees.
Earlier this month, Lufthansa warned of the possibility of compulsory job cuts as the company had not made progress in talks with ground staff union Verdi and Vereinigung Cockpit. In June, Lufthansa and flight attendant union UFO reached a preliminary deal, which was backed in a ballot earlier this month.