Delta Air Lines expects to post a loss for the first quarter of 2022 as the Omicron variant of Covid-19 forced the carrier to cancel hundreds of flights in recent weeks.
The Atlanta-based carrier says on 13 January that even as hundreds of crew members were sidelined by the virus, there has been no marked decline in customer demand due to the highly-contagious variant.
"It was a hellacious three weeks," chief executive Ed Bastian says on the company's quarterly analyst call. The illnesses, as well as unpredictable winter weather, forced the carrier scale back its flying.
As a result, the first three months of the year will be "the only loss-making quarter" of 2022 for the carrier, he adds.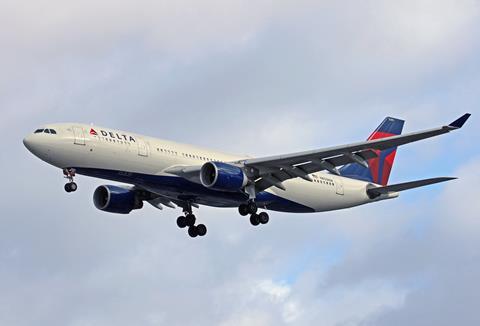 The rapidly-spreading Covid-19 variant caused widespread disruptions for most major airlines during the busy end-of-year travel season and into the new year, as thousands of aviation workers across the country called in sick.
"The most important learning was that even with Omicron being the headline and the disruption that the airline industry experienced, travellers were still travelling, they were resilient," Bastian adds.
Chief financial officer Dan Janki says that Delta anticipates flying between 83% and 85% of 2019 capacity in the first quarter of 2022, and that the airline sees further recovery later in the year.
"With Omicron impacting our near-term outlook, we expect losses in January and February with a return to profitability in the month of March," he says. "Despite expectations for a loss in the March quarter, we remain positioned to generate a healthy profit in the June, September and December quarters, resulting in a meaningful profit in 2022."
Earlier in the day, the company reported a pre-tax loss of $3.4 billion for the full year 2021, though it reached the black when accounting for extraordinary items including the US government's payroll support programme.
The SkyTeam carrier, the first major airline to report financial results for the 2021 calendar year, posted an adjusted pre-tax profit of $398 million, including $4.5 billion of grant proceeds from the payroll support scheme during the year.
After taxes, Delta earned a $280 million profit.
Looking forward to the 2022 summer travel season, company president Glenn Hauenstein says that the industry anticipates a very different environment frmo the past two years.
"Everyone is preparing for omicron to be in the rear-view mirror and travel will be much restored than it was in the past two summers," Hauenstien says, leading to "strong and healthy demand".
Transatlantic travel will return stronger while the restoration of the airline's network to Asia remains limited due to ongoing entry restrictions in many countries, he adds.