The hub of Canada's capital city, Ottawa International airport, is receiving a nearly C$4 million ($3 million) taxiway upgrade from Transport Canada's airport infrastructure fund.
The money will go toward the rehabilitation of pavement on several Ottawa International taxiways, helping "ensure continued safe airport operations", Transport Canada said 28 November. It did not specify a timeline for the project's completion.
"As we continue with the return of aviation activity that supports the health, safety, and security of all Canadians, it is imperative that we maintain a vibrant and competitive Canadian air sector," says Omar Alghabra, Canada's minister of transport. "These critical investments will allow the Ottawa International airport to invest in the infrastructure and tools needed to help re-invigorate the aviation industry and to allow Canadians to feel safe and secure when they travel."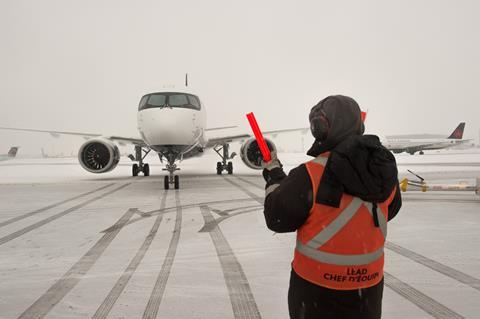 Launched in May 2021, Canada's Airport Critical Infrastructure Programme is awarding C$571.2 million over a five-year period to airports with infrastructure needs related to safety, security, connectivity to mass transit, or Covid-19 testing and screening.
In addition to the runway project, Ottawa International received C$6.4 million from the same fund in 2021 for construction of a light rail transit station at the airport and C$5.6 million from the separate C$64.8 million Airport Relief Fund, which helped sustain operations under Canada's tight Covid-19-related travel restrictions.
"After being hard hit by the pandemic, we appreciate the federal government's support as we work to maintain our infrastructure to ensure the highest level of safety for our passengers and employees,"says Mark Laroche, CEO of the Ottawa International Airport Authority. "This support is ever more important as we continue our recovery, welcoming new partnerships and air service to YOW that will benefit Canada's capital region."
Canada dropped its pandemic-related travel restrictions 1 October, more than 2 1/2 years since the beginning of the pandemic – a period of dramatically reduced air travel that has the country's airline sector facing a prolonged recovery. Air Canada, for example, recently reported doubling its revenue compared with its third quarter of 2021 results, but the flag carrier still lost C$508 million in the three months ending 30 September.