Garuda Indonesia plans to "maximise business performance momentum" following its exit from restructuring, tapping into opportunities in the cargo and religious pilgrimage markets.
The airline, which completed restructuring at the end of 2022, is also targeting to operate 66 aircraft this year, in addition to another six aircraft it already owns. It is a slight increase over previous estimates of 70 aircraft by end-2023.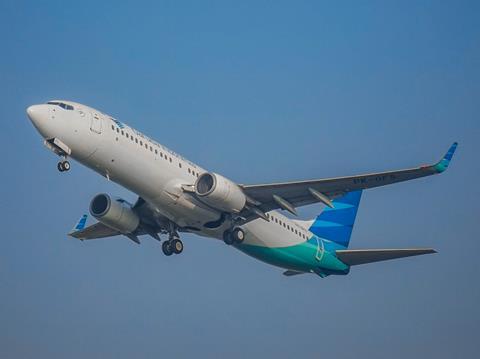 The disclosure comes as the Indonesia Stock Exchange lifts a trading suspension on Garuda shares, a move airline chief Irfan Setiaputra calls a "positive step" in the carrier's path to recovery.
In a 3 January statement, Setiaputra says: "With an increasingly solid foundation of business performance that is also supported by an increasingly lean and adaptive cost structure…we are optimistic that Garuda can maximise the momentum [in] reviving business performance."
On network, Garuda says it will continue to build up a multi-hub strategy, by "strengthening flight connectivity" to points in the network with strong passenger demand, from "strategic" hubs like Jakarta, Denpasar Bali, as well as Kualanamu Medan.
Setiaputra also says the airline will double down on cargo, which he notes will "help maximise the growth momentum of the national export sector".
"We will strengthen this commitment by developing a cargo flight network for both charter and scheduled flights to support direct call activities to various national export destination countries," says Setiaputra.
Lastly, the airline will focus on growing market share in the charter segment, specifically on religious pilgrimage operations, known as Umrah. Calling it a "promising market", Setiaputra says Garuda intends grow the number of direct flights between Indonesian cities and pilgrimage sites in the Middle East.
The airline undertook a massive restructuring exercise that spanned most of 2021 and 2022. On 22 December it received a crucial payment from the Indonesian government, which it will use for operational needs.
Garuda rebounded to the black in its nine-month earnings, helped by a 60% increase in revenue as international borders reopened, as well as a significant revenue gain from debt restructuring.