Qatar Airways recorded a net loss of QR14.9 billion ($4.1 billion) during its most recent fiscal year, it said today, with more than half that figure attributed to impairment charges involving Airbus widebodies and Boeing 737 Max jets.
In a results filing on 27 September, the state-owned carrier notes that many examples of its A380s and A330s are "not likely to be used in operation in the near future", while five 737 Max jets taken by Air Italy were returned to the lessor. Together, those aircraft types are accountable for most of the QR8.4 billion impairment charge taken by Qatar Airways for the 12 months to 31 March 2021.
The overall net loss for the period more than doubles the QR7 billion loss Qatar Airways reported for the year ending 31 March 2020 – which it described at the time as "one of the most difficult" in its history, owing to a blockade by several neighbouring states and the liquidation of Air Italy, in which the group had been a major shareholder.
Despite that "difficult" year being followed by 12 months of a global pandemic, Qatar Airways notes that its performance on an operating level saw a slight improvement in the most recent period.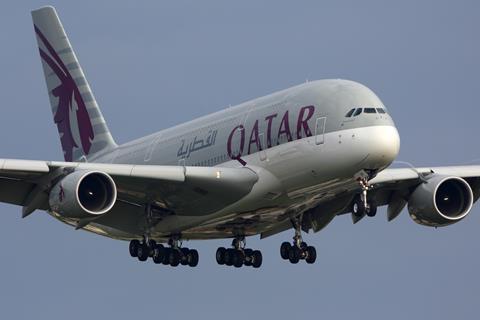 "A combination of our Qatar Airways Cargo division and the group's commercial adaptability have been at the core" of an improved operating performance, it says, which saw the group report a slightly reduced operating loss of QR1.1 billion for the year to 31 March 2021.
EBITDA came in at QR6 billion, compared with QR5 billion in the previous year, it adds.
Qatar Airways' cargo revenue was more than double its income from passenger operations during the 12 months.
While cargo handled was up by just 4.6% from the previous fiscal year in terms of freight tonnes carried, "a significant increase in cargo yield" meant the carrier's revenues from the sector more than doubled to QR18.5 billion.
During the same period, Qatar Airways' revenue from scheduled passenger services plunged by 78% to QR7.97 billion, as passenger numbers fell 82%.
In terms of financial support measures directly related to the pandemic, the group notes that "while our organisation did not receive any subsidies in the form of salary support, tax relief or grants", the Qatari government "did provide an equity injection of $3 billion to support the business continuity" during the period.
"Whilst our competitors grounded their aircraft and closed their routes, we adapted our entire commercial operation to respond to ever-evolving travel restrictions and never stopped flying, operating a network our passengers and customers could rely on," says Qatar Airways Group chief executive Akbar Al Baker.
"With the support of our varied fleet of modern, fuel-efficient aircraft, we were able to ensure that more of our scheduled flights operated than any other carrier and fulfilled our mission of taking stranded passengers home, whilst maintaining global supply chains to transport medical aid and supplies essential to the fight against Covid-19," he adds.
The airline says it has rebuilt its network from a low of 33 destinations to more than 140 destinations today, helping to ensure it is "well-positioned to take advantage of the recovery of international travel".