Spirit Airlines says the second quarter of 2021 was "challenging" as the industry slowly bounces back, and that it faces a "choppy recovery".
The Miramar, Florida-headquartered ultra low-cost carrier lost $288 million during the three months ending 30 June, Spirit says on 29 July. But June was the first month since the beginning of the Covid-19 pandemic that the airline actually made money, executives say.
"This summer has proven to be operationally challenging and very busy, with full aircraft and full airports," chief executive Ted Christie says. "There is still much to be done to attain sustained profitability, but the stage is set and we like how we are positioned."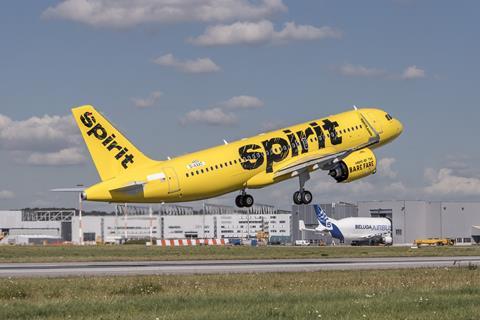 "Demand trends in domestic and international markets saw significant improvement as the quarter progressed," adds the airline's chief commercial officer Matt Klein.
The airline expects to be profitable in both remaining quarters this year, Christie adds.
Revenue for the second quarter came in at $859 million, up from $139 million in pandemic-plagued 2020, but still shy of the $1 billion it posted in the same period in 2019.
The airline has yet to fully deploy its fleet; average per-aircraft daily utilisation is about 9.9h – 25% less than normal, Christie says.
"Until we can get the airline back to full utilisation, it will be a margin drag… That's not going to happen until the middle of next year," Christie adds. "As the airline continues to ramp utilisation, unit costs will come down, so that's a tailwind heading to the third and fourth quarter."
The airline's load factor for the second quarter of 2021 was 84.4%, slightly less than during the second quarter 2019. Capacity for the second quarter 2021 was down 5.1% year on year.
Spirit took delivery of five Airbus A320neos during the second quarter and plans to receive nine more before year end. The all-A320-family operator ended the quarter with 164 jets. By the end of 2021, Spirit expects to operate 173 aircraft – 48 of which will be the newer A320neo. Its fleet will increase to 197 aircraft by end-2022, and 230 by end-2023, Spirit says.
On 28 July, Spirit said it will launch routes to Honduras' new Palmerola airport in the capital city Tegucigalpa, the first airline to do so. The airline will operate daily flights from both Fort Lauderdale and Houston, and four-times weekly flights from Miami International airport, beginning 17 November.