Swiss saw the biggest first-quarter operating result improvement of all Lufthansa Group carriers and is targeting breakeven this year, as it rides a wave of strong demand after a challenging couple of years.
The Zurich-based carrier's first-quarter operating loss improved by more than 75% to SFr47.4 million ($48.1 million). By contrast, adjusted EBIT losses at Lufthansa Airlines and Brussels Airlines improved by 14% and 11%, respectively, while Austrian Airlines and Eurowings saw their losses worsen by 5% and 14%, respectively.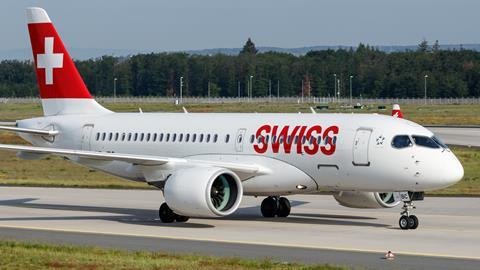 Swiss attributes the results to strong demand for air travel and better cost structures as a result of its restructuring. The airline says it remains committed to achieving a breakeven earnings result for full-year 2022.
"The substantial year-on-year improvement that we have achieved in our first-quarter results and our positive cash flow give us confidence, and help us confirm our commitment to posting a 'black zero' earnings result for 2022 as a whole," says Swiss chief financial officer Markus Binkert. The airline generated a positive cash flow of more than SFr200 million in the three month period ended 31 March.
Swiss' revenue more than doubled in the first quarter to almost SFr712 million, although the carrier says its results were "burdened" by rising fuel costs and a temporary weakening of demand when Russia invaded Ukraine in February.
The airline is seeking to replace its SwFr1.5 billion state-backed loan facility and reschedule its debt in the second quarter.
"With our stable business trends and the positive development of our liquidity situation, we are now in a position to consider financing alternatives to replace the present bank loan facility," says Binkert. "An as long as further geopolitical developments permit, we will be looking to reschedule our debt in the course of the second quarter."
Elsewhere in the Lufthansa Group, Eurowings' 14% widening of adjusted EBIT losses reflected costs associated with a significant expansion of its flight programme in the spring, it says. Operating expenses at the low-cost unit increased by 95% year-on-year.
At Brussels Airlines, operating costs went up by 75%, largely as a result of rising fuel expenses. The Belgian unit plans to operate 80% of its 2019 capacity this year in response to "very high" expected demand.
Increased fuel costs were also cited by Austrian, alongside Covid-19-related travel restrictions, as a reason for its 5% widening of adjusted EBIT losses. Since restrictions were eased at the end of the first quarter, Austrian says it has seen a return to long-term travel planning for the summer months.
"We are currently recording six-figure booking numbers every week for the bank holidays in May and June as well as for the summer holidays," says Austrian chief commercial officer Michael Trestl. "Our guests are booking long-term again – summer holiday flights are already filling up and business travel is also on the rise again."