European travel operator TUI Group is eyeing a strong pick-up in demand this summer and intends to operate three-quarters of pre-crisis capacity in the peak holiday period.
The optimistic note, fuelled by the progress of vaccination programmes and pent-up holiday demand, came as TUI disclosed a €1.3 billion ($1.6 billion) EBIT loss for the six months to 31 March 2021, a period during which strict Covid travel restrictions were in force.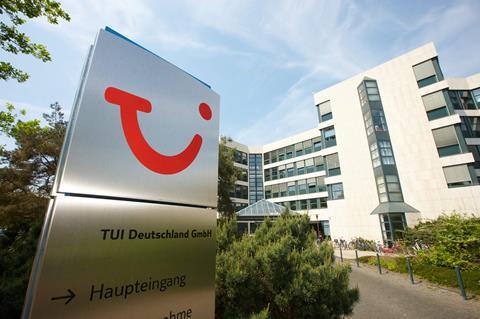 Group revenues for the six months were down 89%, to €716 million. In line with that, revenues at its markets and airlines division were also down 89% at just under €600 million. That was based on a 89% fall in customer numbers to 684,000. Around half of these travelled in October, before tighter Covid travel restrictions were reimposed.
TUI reports summer bookings of 2.6 million customers. Though this is still down 69% on pre-crisis highs of 2019, the group notes a pick-up in demand has been evident in recent weeks. It also points to 22% increase in average prices for the summer, reflecting a higher proportion of customers booking inclusive packages.
Group chief executive Fritz Joussen says: "The prospects for early summer 2021 make me optimistic for tourism and for TUI. They are significantly better than in the first pandemic year, 2020. Scientists and doctors know the virus, there are vaccines from several manufacturers, the vaccination campaigns are working everywhere in Europe and rapid tests are now available everywhere."
While TUI expects departure volumes to be "muted" in the three months ending 30 June, it anticipates "significant working capital inflow" once the reopening of markets is confirmed and destinations are announced, in line with its planned capacity for the fourth quarter of its financial year.
TUI plans to operate 75% of 2019 capacity in that crucial peak period from July to September, focusing on destinations with expected high vaccination rates and low incidence rates. This will include the Greek islands, Spain's Balearic and Canary islands, and Portugal.
"Our assumption for [the quarter to end-September], is for significant positive contributions from strong volumes and a normalised level of operations," TUI says.
TUI completed a third €1.8 billion support package in December, including German state funding, and in April carried out a €400 million convertible bond issue. It had available liquidity of €1.7 billion as of 7 May
"The successful placement of the bond was an important first step in addressing our capital structure," says Joussen. "A good summer season will help with refinancing measures. The government support for the group helps us, but these are interest-bearing loans, not gifts. We take a clear signal from the capital market: tourism remains a growth market internationally and investors trust our business model and support TUI's strategy."
But the group acknowledges there is a material uncertainty as to when its travel activities can fully resume and that there is a risk that, in the absence of an increase in new travel bookings in the coming months, it would no longer have sufficient financial resources to continue its business operations "without further support measures or the short-term sale of non-current assets".
It also notes its solvency could also be jeopardised if a further suspension of covenant compliance is not achieved for the period ending 30 September 2021 and beyond.