A union that represents a range of British Airways employees has confirmed it is talks with the carrier regarding the establishment of a new short-haul subsidiary at Gatwick airport.
"Discussions with British Airways are at an early stage and in order to avoid unnecessary speculation it would be inappropriate to comment at this stage," Unite said in a statement on 26 August.
It was responding to reports that BA intends to launch an as-yet unnamed lower-cost unit at the London airport.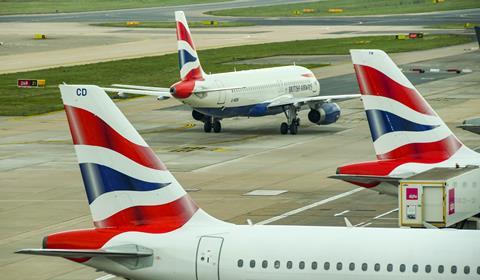 BA's reasoning appears to be the imperative for it to gain a stronger foothold in leisure markets amid the expected slow recovery in the business travel that underpinned its profitability pre-Covid. To achieve that at Gatwick on intra-European routes and other short-haul sectors, it would be up against budget airlines such as EasyJet and Wizz Air, which tend to have lower unit costs than network rivals.
The UK flag carrier has operated no short-haul services from Gatwick since the beginning of the Covid-19 pandemic, despite it having many slots at the facility. Towards the end of 2020, it restarted some of its Gatwick services from its Heathrow hub, prompting speculation that it might withdraw from the airport entirely. Under plans announced since then, it was to resume short-haul services at Gatwick in November this year.
Cirium schedules data shows that pre-Covid, BA operated 47 short-haul routes from Gatwick. Only four of those routes were uncontested, reflecting the competitive pressures it might face in returning to operations at the airport.
For summer 2022, BA's biggest destinations by flights from Gatwick are scheduled to be Jersey, followed by popular holiday resorts Malaga and Faro, according to Cirium.
While its short-haul flights have been suspended from Gatwick, BA has continued to operate a small number of long-haul leisure routes from the facility.