Global Crossing Airlines, a charter carrier based in Miami, has begun passenger operations.
The airline, which also refers to itself as "GlobalX", received final FAA and US Department of Transportation (DOT) approvals late last week, it says on 10 August. It launched its first charter flight on 7 August.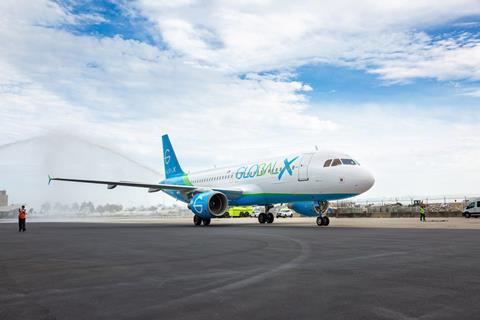 "We are obviously very pleased that we have cleared all DOT and FAA regulatory requirements and have begun revenue flights as of last Saturday," says chief executive Ed Wegel. "We are seeing very strong demand for our aircraft and will be announcing some major track charter programs (where we fly for a client long term and every day), as well as US government and other on-demand charters."
The airline adds that it has booked "a significant number of charter programmes" from its base in Atlantic City, New Jersey, which is about 120mi (192km) southwest of New York City. The company has hired 15 flight attendants and four pilots at its Atlantic City base. It currently has 121 employees in total.
Wegel said last week the carrier will locate one aircraft in Atlantic City from October, allowing it to compete effectively for contracts to operate charter flights out of the Northeast USA.
Formed by a Canadian company, GlobalX received FAA clearance to fly under Part 121 rules, which apply to large scheduled airlines.
"We are working with our commercial alliance partner, Canada Jetlines, in developing cross border charter programs and providing them additional aircraft this winter to satisfy demand from Canada to sun destinations in the US," Wegel adds.
The carrier currently has a single Airbus A320 (registration N276GX), which was manufactured in 2006 and previously operated by Frontier Airlines, according to Cirium fleets data. It has started the process of adding a second aircraft – an A321 – to its flight certificate.
GlobalX expects to receive two more aircraft this year – one in the third and one in the fourth quarter, and aspires to expand to 14 aircraft by the end of 2022 and up to 25 by the end of 2023.
The airline intends to operate charters from Miami and Atlantic City to destinations in the USA, Caribbean and Latin America. It says that its partners include casinos, cruise lines, resorts and cargo companies.