Mexican ultra-low-cost carrier Volaris expects the Federal Aviation Administration will restore Mexico's aviation safety rating in the second half of 2022 as it seeks to expand between the USA and Mexico – the backbone of its business.
Speaking on the company's fourth-quarter results call on 25 February, the airline's chief executive Enrique Beltranena says US and Mexican aviation authorities have made "significant progress" in rectifying issues the US regulator discovered during a regular safety assessment last year. That assessment led to the downgrade.
"During the current week the FAA assessment team has been working with Mexican aviation authorities to continue reviewing the progress of the corrective action plan," Beltranena says. "It seems that they were able to progress substantially on six areas of concern."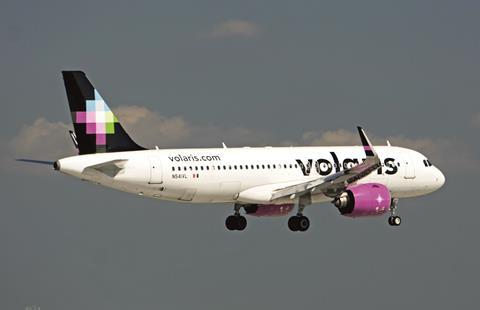 The teams will continue working to rectify 28 points of contention, following which another International Aviation Safety Assessment (IASA) review will take place. Beltranena says that will take "until probably the end of spring".
"Through the end of year, we really need the category [upgrade]," he adds.
The FAA downgraded Mexico's safety rating to "Category 2" from "Category 1" last May, after it determined the country no longer met ICAO safety standards. Air service between the countries continued, but with restrictions. Mexican carriers were not permitted to introduce new routes, and US airlines were barred from marketing and selling tickets on code-shares.
Shifting Mexico to "Category 2" meant the FAA was unsatisfied with a country's laws or regulations, or that the country's civil aviation authority had a poor record in areas such as technical expertise, trained personnel, record keeping, inspection procedures or resolution of safety concerns.
Even with Category 2 restrictions, Volaris executive vice-president Holger Blankenstein says the carrier can expand in the United States this year. For starters, Volaris has "not reached the capacity limits" defined by the FAA on multiple Mexico-US routes.
"We do have two operating certificates in Central America – Volaris El Salvador and Volaris Costa Rica - which allows us to diversify our network, not only to South and Central America but also to fly directly to the US from Central America, which will give us additional growth opportunities in the international market," Blankenstein says.
In addition to Mexico, other countries with the "Category 2" designation include Bangladesh, Curacao, Malaysia, Pakistan, Thailand, Venezuela and a collection of Caribbean island states which sit under the Eastern Caribbean Civil Aviation Authority.
Corrects story on 28 February to note that the airline expects the upgrade to happen in 2022 not 2021.