UK carrier Virgin Atlantic has seen a "material improvement" in bookings since the full reopening of the transatlantic market but still has some way to go to reach pre-Covid levels of demand.
Speaking during the Airlines 2021 event in London on 22 November, the carrier's chief executive Shai Weiss said demand since 8 November is "the best it's been for a very long period of time", with ticket sales on services to New York, Miami and others "looking exceptionally strong", particularly for the upcoming Christmas period.
But "there is not great visibility beyond the next three to six months," Weiss cautions. "People are booking close in; they respond to market sentiment."
And ultimately, trading is "nowhere close to where it was in 2019" yet.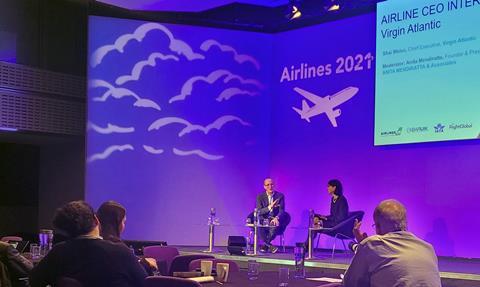 With that in mind, Weiss joined other airline speakers at the event in calling for the UK government to move into line with much of mainland Europe and scrap the day-two Covid-19 testing requirement for arrivals in the UK, describing it as "an inhibitor of travel".
"How about a bit of certainty and clarity for people to allow them to interact with our industry with confidence," Weiss states when asked for his message to the UK government. Aviation minister Robert Courts had earlier told the event that the government plans to review its travel restrictions in January.
As he awaits news on that front, Weiss is confident about the "the strength of our joint venture" with Delta Air Lines, Air France and KLM across the Atlantic, saying that "we expect to be a big player there".
One-directional load factors on transatlantic services rose to 90% in the week following the USA's opening up to non-essential travel, he notes, adding that Virgin expects to trade in the period leading up to Christmas "probably at 60-70% load factor". That would mark an "improvement of more than 10 points from prior to the opening of the market".
The reopened transatlantic routes – which accounted for around "60% of our business" pre-pandemic – mean "flying west and east between Europe and the US should be the strongest [intercontinental] market" in the world at this stage of the pandemic recovery, Weiss observes, adding that "we are doing well with India and Pakistan" despite restrictions hampering progress elsewhere in Asia.
As Virgin's recovery continues, Weiss did not comment on recent stories suggesting the carrier is seeking a fresh £400 million ($534 million) funding injection having shelved plans for an IPO.
"We owe a lot of money to a lot of people, which we will honour as we repair our balance sheet," he says regarding the airline's future.