Recaro believes it can boost its presence in a growing regional aircraft market after winning its first seat deal in the segment, with KLM Cityhopper.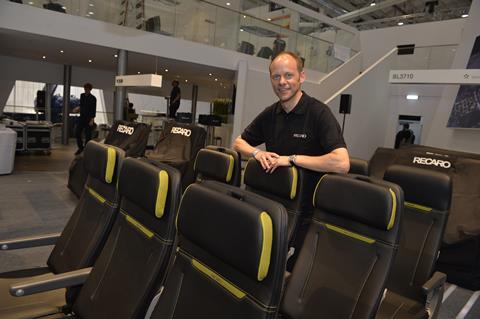 The German manufacturer's economy BL3710 and lighter SL3710 products are being line-fitted on KLM Cityhopper's 132-seat Embraer E195-E2s, of which the first of 25 on order arrived last week.
The Dutch airline is also retrofitting the BL3710 and SL3710 on its fleet of 100-seat E190s.
Safran is the "preferred" seating supplier on the Pratt & Whitney PW1900G-powered E2, but Recaro seats are now "available by customer request" as original equipment, says Embraer.
On the first-generation E-Jets, the French manufacturer has been the only factory option, but Recaro seats are now available as so-called buyer-furnished equipment. "Work is underway" to add a further supplier option, says the Brazilian airframer.
Recaro's chief executive and main shareholder Mark Hiller says the regional jet market had been a "focus" for the company before the pandemic, because more of its customers who were operating Airbus A320 family and Boeing 737 aircraft were asking for "seat commonality" with regional jets.
However, he believes that the crisis will further increase opportunities in the regional segment with airlines switching to smaller jets "as facilitators to pull out of the crisis with traditional load factors and operational costs under pressure".