Safran has had its Z110i economy seat certificated for installation on Embraer E-Jets, thereby broadening the supplier's seat options for the aircraft family.
The French aerospace group says the seat, which it describes as its "latest generation" economy product, is available for the E-Jet series, indicating it can be installed on both E1 and E2 models.
Noting a reclining function, Safran says the seat is "equipped with a large range of pre-certified options allowing [it to] cover a wide range of applications and airlines preferences." It is "available in short lead times and with a reduced parts count for ease of maintenance and enhanced reliability", the manufacturer adds.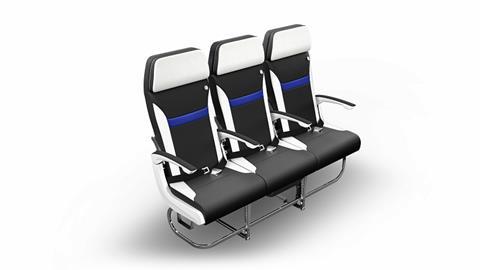 Safran, which acquired interior manufacturer Zodiac Aerospace in 2018, has thus far been the sole supplier of passenger and pilot seats on the E1 series. However, Zodiac, during its time as an independent company airline, faced pressure over quality issues with its products.
In 2018, KLM told Cirium that it was considering development of a supplemental type certificate to replace passenger seats on its E-Jets because the carrier was concerned about the quality of the installed equipment.
Recaro disclosed in November 2020 that it had been selected by KLM to supply economy seats for a cabin refurbishment programme for an unspecified number of E190s and Boeing 737-800s – noting that the deal was "the first time" that it was selected to outfit Embraer aircraft.
Seat deliveries for the cabin upgrade are scheduled to begin in February.
KLM had in 2019 revealed its intention to equip its on-order fleet of E195-E2s with Recaro seats. KLM's CityHopper arm operates 32 E190s and 17 E175s, and has 21 E195-E2s on order, Cirium fleets data shows. All of the delivered aircraft are listed as being in service.
Recaro tells Cirium that Embraer developed an STC for installation of its BL3710 and SL3710 economy seats on both E1- and E2-generation aircraft as part of an effort "initiated" by KLM.
"These seats… can be ordered from a technical standpoint from any other airline," Recaro says. While its products have not been included in Embraer's equipment catalogue "by today", Recaro says talks with the Brazilian airframer are "still" in progress.
Embraer has been approached for comment.