Airbus has handed the supply contract for the A350 freighter's barrier wall to Turkish Aerospace, under a sole-source agreement.
The freighter design includes a rigid barrier wall separating the aircraft's main cargo deck from the forward courier seating area which will be able to accommodate up to 11 seats.
Turkish Aerospace says it will design, build and supply the wall – beginning in 2024 – through a sole-source deal across the life of the A350F programme.
The company disclosed the agreement during the Farnborough air show.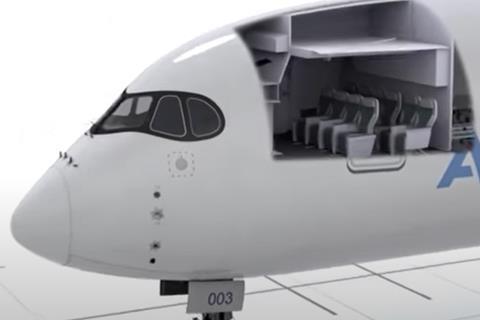 It forms part of a broader contractual arrangement with Airbus which also covers joining of the A320neo section 18 shells and section 19 barrel of the aft fuselage.
Turkish Aerospace will, in addition, build and supply centre mid-lower fuselage panels of the short-haul A220 from 2023.
All the work will be conducted at the company's facilities in Ankara. It already supplies structures to the airframer including A350 ailerons, A320neo barrels and shells, and A330 rudders.