Piaggio Aerospace's administrator has extended the deadline for parties to submit expressions of interest in the Italian manufacturer on the back of disruption caused by the coronavirus outbreak.
In a statement issued on 24 March, extraordinary commissioner Vincenzo Nicastro says the one-month extension, from 3 April to 4 May, was made "in view of the ongoing Covid-19 epidemiological emergency".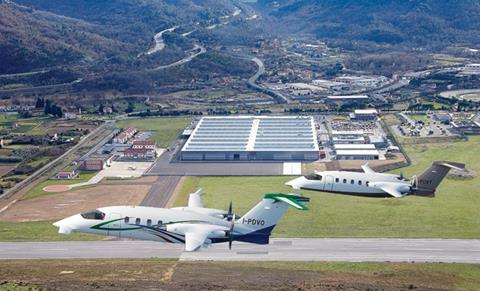 Italy has been ravaged by the pandemic, and Piaggio says it began on 22 March a two-week closure of its sites – including its Villanova d'Albegna production and MRO facility near Genoa – "to enact further sanitation activities".
While the Italian government is allowing defence and aerospace companies to remain operational during the crisis "we are keeping the company closed until 29 March, so we have the time to organise our production activities to the highest health protection standards," says Piaggio.
Piaggio entered extraordinary receivership – a process in Italy specifically aimed at industrial insolvency and company restructuring – in December 2018, after Abu Dhabi wealth fund Mubadala, its sole shareholder, pulled out.
Forty companies have already expressed an interest in acquiring all or part of the firm following an April 2019 call from Nicastro, for "non-binding" commitments.
He aims is to sell Piaggio in its entirety", and to "find a buyer who can offer a solid, long-lasting recovery and development plan".
Piaggio has a lifeline package of orders and commitments from the Italian government worth €900 million ($980 million). These have been secured by the commissioner to make the airframer more attractive to a potential buyer.
Piaggio's only aircraft are the P180 Avanti twin-pusher and its unmanned surveillance variant, the P1HH Hammerhead.