Lessor AerCap has become the new joint-venture partner of Safran in the Irish-based engine-leasing company Shannon Engine Support, following its acquisition of US lessor GECAS.
AerCap has signed a 20-year agreement covering the 50:50 venture.
Chief executive Aengus Kelly describes Shannon Engine Support – the largest lessor of CFM International's CFM56 and Leap engine families – as a "great fit" within its portfolio.
Shannon Engine Support was previously equally-owned by General Electric and Safran.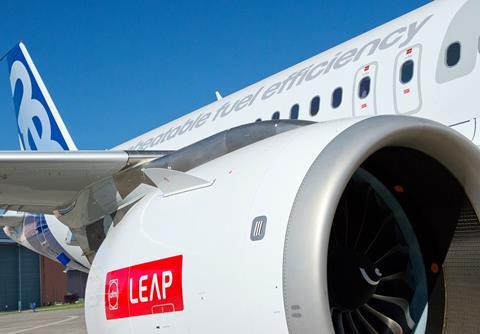 The competition effect on the engine lessor was examined as part of the regulatory approval process for AerCap's acquisition of GECAS.
According to the European Commission spare engines represent about 10% of powerplants globally, with less than half of spare engines leased.
GE's engine leasing business represented about 20-30% of the worldwide total of leased engines, with the focus – like other manufacturers' engine-leasing arms – strongly on its own powerplants.
Competition regulators were told that AerCap did not operate a dedicated aircraft engine leasing business, although it had occasionally leased out a "negligible number" of engines removed from older aircraft.
The Commission concluded that AerCap's acquisition of GECAS would not lead to horizontal competition issues, and the absence of aircraft lessor custom for engine-leasing services similarly allayed vertical concerns.
GECAS did not previously tie aircraft leasing to engine leasing, it added, and the combined AerCap-GECAS would not be able to do so, the Commission's analysis added.
Safran Aircraft Engines chief Jean-Paul Alary says that having AerCap as a new partner in the Shannon Engine Support joint venture is a "key asset" and "significantly adds to our customer offering".