The Aero Engine, Space and Defence business of Japan's IHI swung to a half-year operating profit, helped by a boost in revenue from its aircraft engines segment.
For the six months ended 30 September, the business posted an operating profit of Y18.8 billion ($129 million), compared with Y12.3 billion loss in the year-ago period.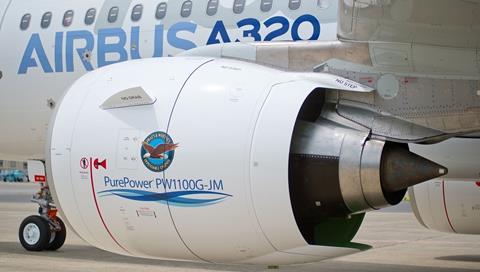 Revenue rose nearly 40% year on year to Y108 billion, while orders received rose 72% to Y149 billion.
IHI attributes the revenue upswing to several factors, such as increased sales for both engines and spare parts, as well as yen depreciation against the dollar.
IHI has workshare on several major aircraft engine programmes, such as the International Aero Engines V2500, Pratt & Whitney PW1100G, and the GE Aviation CF34, GE90, GEnx and Passport business jet engine.
But the company is not changing its outlook for the aerospace business, maintaining a full-year operating profit forecast of Y40 billion.
"The forecast of revenue and operating profit remain unchanged despite improvement of profitability and yen depreciation, due to the impact of the slowdown in sales of spare parts [for civil aero engines] caused by labour shortage in the…industry," states IHI.
For the first half of the current financial year, the aerospace operation delivered 460 engine shipsets, a slight increase from the 420 in the previous year.
Overall, the unit accounted for about a quarter of the IHI Group's total revenue of around Y594 billion. IHI's other areas of business include industrial systems, infrastructure, offshore facilities, and work in the resources sector.