Airbus is watching for potential effects of the latest coronavirus variant on its industrial set-up in China, but has not yet seen any disruption to operations at its Tianjin plant.
Chief executive Guillaume Faury, speaking during a 10 January briefing, acknowledged that the company was "very closely" monitoring the development and any possible effects on its supply chain, assembly line and deliveries.
But he noted that, while the 'Omicron' variant of Covid-19 posed a potentially significant threat, there was, as yet, no disruption to Airbus's operations in China.
China's governmental national health commission has disclosed that outbreaks of the virus are affecting various cities including Tianjin.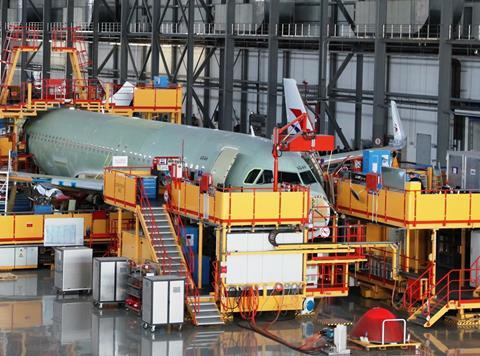 Airbus has a final assembly line at Tianjin where it manufactures single-aisle aircraft. The line is crucial to supplying the company's Chinese customers.
It is embarking on a ramp-up of single-aisle production, with the aim of taking the monthly build rate to 65 by summer 2023, and is modifying all its assembly lines to be capable of producing A321neos, in order to cope with the backlog for the larger twinjet.
Faury stressed that the importance of Airbus's globally-distributed industrial system – with its production lines in Europe, North America and China – and its "proximity to customers" given the travel restrictions which have blighted the air transport network.
Airbus has already been forced to adapt to find solutions to problems created by the evolving situation, he said: "That's basically what we'll have to do again."