Airbus is embarking on a recruitment drive to hire another 13,000 personnel this year, matching its effort last year.
The aerospace company says more than half of the new hires – around 7,000 – are intended to fill newly-created positions, and a third of the total will be made up of recent graduates.
Airbus has been ramping-up its workforce more than two years after imposing dramatic cuts as the pandemic forced a slowdown in its production activity.
"New hires will be instrumental in supporting our industrial ramp-up and Airbus' ambitious decarbonisation roadmap and preparing the future of aviation," it states.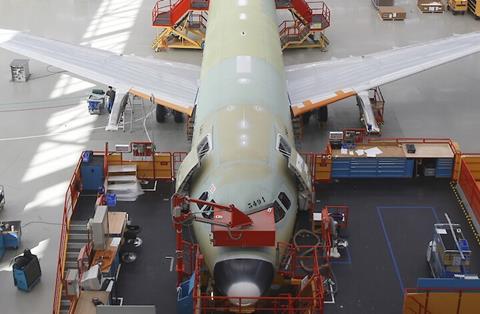 Airbus will focus on sourcing manufacturing and technical staff, while also looking to bring in personnel to support its energy strategy as well as its digital work.
It plans to take on more than 9,000 people in Europe, with the rest spread across its global operation.
Airbus chief human resources officer Thierry Baril says the company's "resilience and attractiveness" have been "tested" by the recent crises.
He says the company successfully recruited 13,000 people in 2022 and it plans to achieve the target again this year.
"We call on talented individuals from all over the world to join us in our journey to make sustainable aerospace a reality," he adds.