Airbus has reached a preliminary understanding to establish a new aerostructures company in Germany, which will begin operating on 1 July.
The airframer says some of the aerostructures assembly of fuselages – distributed across various areas of the company and its subsidiaries – will be integrated as a core activity.
Chief executive Guillaume Faury says the organisation will be "similar" to the Airbus Atlantic operation established for its French aerostructures work.
Airbus has been aiming to combine Premium Aerotec operations at Nordenham, Bremen and Augsburg.
It has also been planning to establish a separate detailed parts business, with the German firm Muhr und Bender – also known as Mubea – having put forward an offer to acquire the detailed parts manufacturing of Premium Aerotec.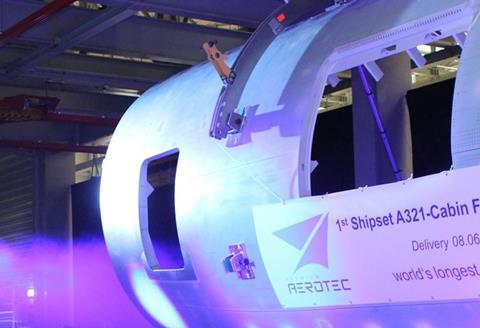 Mubea is a specialist producer of high-quality lightweight components, and a subsidiary already builds components for Airbus aircraft.
"With these technological competencies and a successful history in the aircraft industry, we are convinced that we are the right strategic investor for Airbus' detail parts production," says the company.
But the proposed German re-organisation has been the subject of friction, with union IG Metall putting pressure on Airbus in the negotiations through warning strikes and threats to obstruct A320neo production ramp-up.
IG Metall has claimed that Airbus – having been supported through the air transport crisis by employees – "intends to break up companies" through its sale of production sites.
Faury says Airbus is still "evaluating" aspects of the detailed parts work with Mubea and IG Metall, and that the company needs "a couple of months" to reach conclusions.