Some 3,000 personnel at Airbus plants in the UK have voted in favour of industrial action over a pay dispute, although a strike has yet to be called.
The ballot involved workers at the wing plant in Broughton as well as the aerospace facility at Filton.
According to the Unite union, staff voted "overwhelmingly" for industrial action with 94% support on a turnout of 84%.
It says a strike could be initiated in March.
Unite claims the airframer has refused to improve a pay offer for 2021 after a wages freeze in the previous year.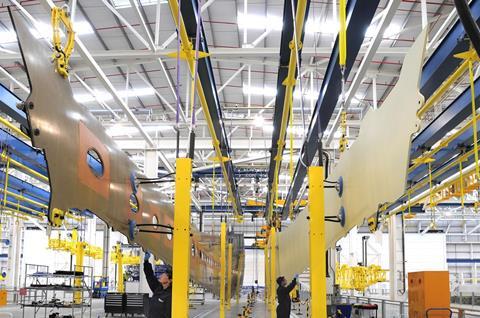 "This vote makes it abundantly clear that our members are totally dissatisfied with Airbus' unacceptably low pay offer," says Unite general secretary Sharon Graham.
National officer for aerospace Rhys McCarthy says Airbus needs to "step up", adding: "There is still time to avoid strike action but Airbus needs to table an offer our members can accept."
Airbus acknowledges that the vote in favour of a strike has "not been taken lightly", but states: "We are disappointed by the decision, given the damaging impact it will have on our recovery from the pandemic."
The airframer says it managed to avoid compulsory redundancies and that its pay offer has been put forward with the effects of the crisis in mind.
"[We are] keen to avoid damaging industrial action so we can focus on building a resilient, competitive and collaborative place to work for years to come," it adds. "We are committed to ongoing dialogue with the trade union to help bring this situation to a successful resolution."
Airbus also points out that safety of its personnel and products is "paramount" and the company will implement plans to "ensure the protection of our operations".