Airbus systems procurement chief Benoit Schultz is to take over as head of the A220 operation, as chief executive of Airbus Canada, succeeding Philippe Balducchi who has led the division for nearly three years.
Balducchi has "decided to pursue other opportunities" outside of Airbus, says the airframer, having spent two decades with the company – becoming head of the Airbus Canada partnership when it acquired the former Bombardier CSeries programme in July 2018 and overseeing its integration into the Airbus range as the A220.
Schultz will accede to the position at the beginning of September this year, with the responsibility of bringing down the costs of A220 production and increasing its sales post-pandemic as Airbus strives to break even on the twinjet programme.
He joined Airbus in 2002, initially within its engineering sphere before serving in finance roles and taking up leadership positions within the supply and procurement division – first with seats and electronics, then subsequently being appointed as senior vice-president for procurement of systems, equipment and services.
When Airbus took over the CSeries programme three years ago, Schultz's remit broadened to cover procurement of A220 systems, ensuring his familiarity with the supply chain for the aircraft.
"[He] will lead the organisation as it moves to the next natural phase of its development and further integration into the new Airbus operating model," says the airframer.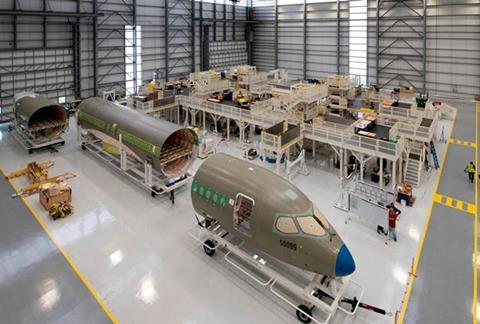 Balducchi's work to bring the A220 fully into the Airbus fold has included setting up a US final assembly line at Mobile and a pre-final line at Montreal Mirabel, as well as steering development of a corporate jet variant.
But Airbus, which raised monthly A220 production from four to five aircraft at the end of the first quarter, is still trying to turn the twinjet into a profitable programme.
Chief financial officer Dominik Asam, speaking during the company's first-quarter briefing on 29 April, said the airframer was "in the J-curve, still going through losses" with the A220.
"We have the benefit of the loss-making contract provision from the purchase price allocation, so we can bring losses to a low triple-digit million amount," he said, but added that cash usage was higher because the provisions "don't help on the cash side".
Asam says profitability will "take several years". He says the A220 needs new orders to reach the "decent loading level" at both the Mirabel and Mobile lines necessary to break even, although the timing will also depend on the "question of pricing".
But Airbus chief executive Guillaume Faury is upbeat about the A220's prospects, pointing out that the type was "very much used" during the pandemic. He adds that the company anticipates "good market momentum" for both the A220 and A320 families, stressing that they address different segments with only a "very small" overlap.