Airbus is aiming to delivery around 720 commercial aircraft over the course of this year, up on the 611 it handed over during 2021.
The airframer's delivery performance enabled it to achieve an adjusted full-year EBIT of €3.57 billion ($4.05 billion) for its commercial aircraft division, on revenues of €36.1 billion.
Airbus adds that this was supported by "cost containment and competitiveness". The figure is a strong improvement on the €618 million reached in 2020, as the manufacturer dealt with the onset of the pandemic.
Chief executive Guillaume Faury says that 2021 was a "year of transition" during which the company's focus shifted from navigating the crisis towards recovery and growth.
"Record net income and our efforts to strengthen the net cash position underpin our proposal to reintroduce dividend payments going forward," he adds.
"At the same time, we continue to invest in our strategic priorities and in the transformation of our company."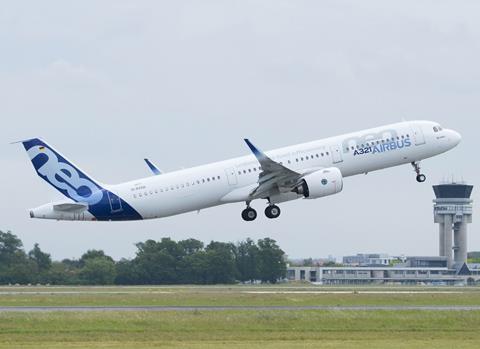 Airbus says it remains on track, despite a "complex environment", to ramp up A320neo-family production to 65 aircraft per month by summer 2023 and "de-risk" its production lines by ensuring all of them can produce the larger – and increasingly popular – A321neo.
"For A320-family production rates beyond 2023, the company is still in the assessment phase and working with suppliers to potentially enable an increase above rate 65," it adds.
Airbus is expecting an overall adjusted EBIT of €5.5 billion across all its activities for 2022, compared with the 2021 figure of €4.86 billion.