Airbus's admission that it will probably miss its commercial aircraft delivery target for this year is an indication of the supply-chain issues and other difficulties encountered by the airframer as it attempts to ramp-up production.
The target of 700 aircraft was relatively modest, considering that it was far exceeding 800 deliveries prior to the crisis.
Airbus has also had experience in backloaded delivery situations, with the final quarter tending to involve a rush of aircraft handovers.
It achieved 565 deliveries to the end of November, including 68 in November itself, which would have left it needing 135 deliveries in December to meet this year's target.
Airbus has been able to overcome such a margin before – it delivered 138 aircraft in December 2019 and 158 in December 2018.
But the airframer has been dealing with supply-chain issues while trying to restore production – particularly on its single-aisle lines – to pre-crisis levels, with the intention of increasing output further before the middle of the decade.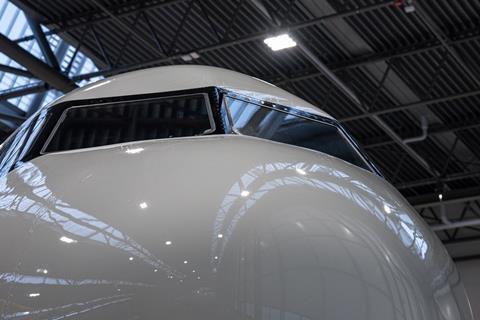 Chief executive Guillaume Faury had indicated in October that the airframer was aiming to reach an A320neo rate of 65 aircraft per month by early 2024.
While the company is maintaining this target, it says it will "adjust the speed" of the ramp-up over the course of next year and during 2024 – although it still intends to reach the figure of 75 aircraft per month in 2025.
Airbus is blaming a "complex environment" for the adjustments, but adds that it will not fall "materially short" of its delivery target for the year.
Strong single-aisle activity has taken gross orders for 22 to more than 1,000 aircraft.
Airbus recorded November orders for eight A320neo-family jets from IAG carriers British Airways and Aer Lingus, plus 10 from Germany's Condor and two from CDB Leasing, as well as the agreement for six A220s for Croatia Airlines.
The month's activity also included a relatively rare long-haul passenger aircraft agreement, for three A330neos from Brazilian operator Azul – taking gross orders for A330neos this year to nine.
Airbus has obtained orders for 18 passenger A350s this year – all from Qantas and Turkish Airlines – but has also secured agreements for 20 A350 freighters.